Mayr-Melnhof Completes Its Acquisition of Kwidzyn Mill from IP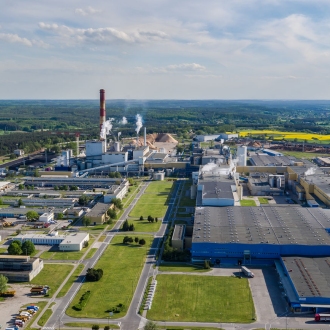 The Kwidzyn mill has the annual capacity to produce 740,000 metric tons of folding boxboard, uncoated freesheet, specialty kraft papers, and market pulp on four machines.
Aug. 11, 2021 - The Mayr-Melnhof Group (MM) has completed the acquisition of the Kwidzyn mill in Poland from International Paper after receiving approval from all relevant competition authorities. The acquisition of the Kwidzyn mill forms part of MM's strategy to grow in high quality virgin fiber-based cartonboard (FBB) with innovative, sustainable and cost efficient grades.
Furthermore, MM is diversifying its product portfolio through the integration of an attractive pulp and paper production focusing on Uncoated Fine Paper (UWF) and Packaging Kraft Papers.
In line with the enlarged product spectrum the division MM Karton changes its name to MM Board & Paper.
"I am pleased that we enter two new core businesses, Uncoated Fine Paper and Packaging Kraft Paper. MM Kwidzyn will drive innovation for more sustainable packaging solutions in the growing virgin fiber-based cartonboard market and creates attractive new perspectives from the integration of pulp and paper at a site in Europe with cost advantages. We are looking forward to a successful cooperation with our new colleagues," comments Peter Oswald CEO of MM.
MM Kwidzyn operates at its integrated pulp and paper site in Kwidzyn a pulp mill with an annual capacity of around 400,000 tonnes and four integrated cartonboard / paper machines. The flagship is an FBB machine with 260,000 tonnes annual capacity.
Moreover, MM Kwidzyn has recently entered the MF kraft paper segment via one of its paper machines to serve the growing demand for flexible fiber-based packaging products with an annual capacity of 75,000 tonnes. In addition, MM Kwidzyn operates two of the most attractive copy paper machines (UWF) in Europe with an annual total capacity of 410,000 tonnes. The mill employs approximately 2,300 people.
MM is Europe's largest producer of cartonboard and folding cartons focusing on sustainable and innovative fiber-based packaging solutions. To learn more, visit: www.mayr-melnhof.com.
SOURCE: Mayr-Melnhof Group
Read a related story on PaperAge.com: International Paper to Sell Kwidzyn Pulp and Paper Mill in Poland to Mayr-Melnhof for EUR 670 Million - Feb. 12, 2021.