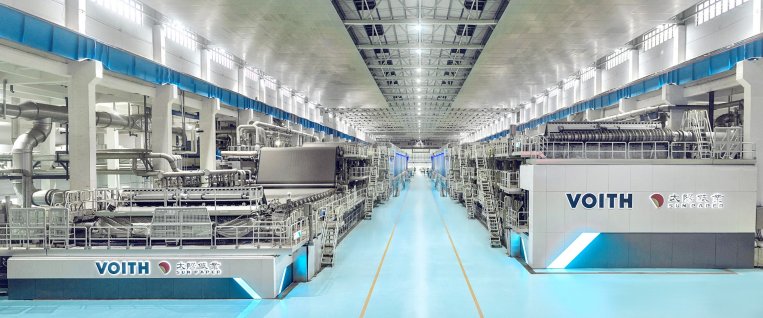 Sun Paper Has Started Up Two Voith-Supplied Packaging Paper Machines in Nanning, China
Nov. 8, 2023 - Voith announced that Sun Paper's two packaging paper machines — PM 2 and PM 3 — were successfully commissioned at the Nanning, China site within one month.
According to Voith, PM 3 successfully passed the tests in only three weeks and achieved a record-breaking start-up time of only one hour from stock on wire to the first saleable paper roll.
PM 2 and PM 3 in Nanning are the 13th and 14th paper machines supplied to Sun Paper by Voith.
"Our long-standing cooperation with Voith has taught us that a good business relationship is not only based on one-time success but also on mutual support and long-term growth," said Li Lu, Chairman of Sun Holdings Group. "From PMs 31/32 and PMs 36/37 in Zoucheng to PM 1/2s in Laos and PMs 2/3 in Nanning, we and Voith have demonstrated through concrete actions that a true partnership is based on deep mutual trust and shared values."
PM 2 and PM 3 in Nanning have a wire width of 7.3 meters and has achieved a design speed of 1,200 m/min.
PM 2 produces high-quality packaging paper with a basis weight of 140-250 gsm and an annual capacity of around 520,000 tons.
PM 3 specializes in high-quality packaging paper with a basis weight between 100-160 gsm and has an annual capacity of around 480,000 tons.
Voith supplied all components from headbox to reel, including automatic control systems and digitalization solutions from the Papermaking 4.0 portfolio, such as MCS, QCS and OnCare.Health.
Kurt Yu, President of Voith Paper Asia, noted, "We are very honored to be the key partner in Sun Paper's ambitious plans for the packaging paper sector. Each follow-up order is not only a recognition of the product, but also an expression of appreciation for our many years of trustful cooperation."
Voith Paper, part of the Voith Group, is the full-line supplier to the paper industry, providing a wide range of technologies, services, components and products, and offers paper manufacturers solutions from a single source.
SOURCE: Voith