Valmet Completes the EUR 380 Million Acquisition of Körber's Business Area Tissue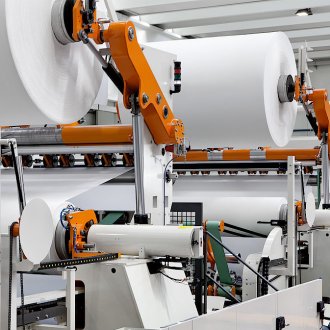 Körber's Business Area Tissue offers process technologies and related services for converting the jumbo reels of tissue paper into final tissue products for consumers and the Away from Home segment.
Nov. 3, 2023 - Valmet on Nov. 2 completed the acquisition of Körber's Business Area Tissue, a provider of innovative process technologies and related services for converting tissue jumbo reels into final tissue products.
The enterprise value of the acquisition is approximately EUR 380 million on a cash and debt free basis subject to ordinary post-closing adjustments.
The closing of the transaction follows the agreement that was announced on July 7, 2023.
The new Tissue Converting business will operate as a business unit integrated in Valmet's Paper business line. It focuses on delivering and serving converting lines for rolled and folded tissue products, packaging equipment and on providing digital solutions and services.
The acquired business enables Valmet to serve the tissue industry with wider expertise, process technologies and services covering end-to-end solutions including automation systems and flow control equipment.
"Today we are happy to welcome the market leader in tissue converting and close to 1,200 new dedicated colleagues to Valmet," said Pasi Laine, President and CEO of Valmet. "The acquisition is a good strategic fit and complements Valmet's tissue making offering with strong expertise and complete solutions from tissue converting to packaging.
"By entering the tissue converting business, we take again a step forward with strengthened capabilities to serve our global customers even better," Laine added.
Oswaldo Cruz Junior, Head of Tissue Converting business unit, Valmet said, "Today marks the beginning of an important new chapter in our history, and we are very excited to be joining Valmet. Being part of Valmet will support the growth of our operations in the tissue converting business and allow us to boost innovative projects."
Valmet estimates that the acquisition will bring sales, service and cost synergies worth of EUR 8 million by the end of 2026. In Valmet's reporting, the process technology part of the business will be consolidated to Paper business line and the services part to the Services business line.
Valmet is a leading global developer and supplier of process technologies, automation and services for the pulp, paper and energy industries.
SOURCE: Valmet