Voith to Supply Enstra Paper with New OCC Stock Preparation Line, Paper Machine Rebuild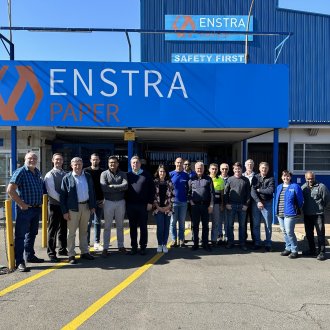 Enstra Paper, a member of the Corruseal Group and one of the largest producers of recycled containerboard grades in South Africa, has engaged Voith to rebuild its Paper Machine 6.
Oct. 16, 2023 - Enstra Paper has engaged Voith to rebuild its PM 6 for packaging paper in Springs, close to Johannesburg, in South Africa.
Voith will supply a new BlueLine OCC stock preparation line to improve efficiency, runnability and paper quality in addition to undertaking substantial rebuild measures on the existing paper machine that was converted from newsprint to packaging papers in 2015.
"Enstra Paper's new production line 6 will significantly improve our competitiveness, cost situation and product quality," says Rajiv Mehta, Joint CEO at Corruseal Group. "The partnership with Voith is the next important investment step for the future of our company."
According to Voith, the new BlueLine OCC stock preparation line will significantly improve the quality and efficiency of the mill's recycled paper treatment. Components will include the IntensaPulper, IntensaMaXX for pulper cleaning, IntensaScreenDrum for reject washing, InduraPro and InduraClean cleaners, and other products for screening and fractionation.
"We are extremely proud to carry out this challenging rebuild for Enstra Paper," says Philip Schnellinger, Process Technology Manager at Voith Paper. "Enstra will benefit from fewer interfaces and from our innovative and proven solutions, as well as a production line that will be state-of-the-art and future ready."
The existing PM 6 will be fitted with cutting-edge technologies to enable much more efficient and sustainable paper production. To optimize sheet formation, the forming section will be equipped with a DuoFormer D and Voith's proven DuoShake DG shaking unit.
In the press section, a compact DuoCentri NipcoFlex shoe press will ensure optimal dewatering with reduced specific energy and production costs.
Further modifications in the dryer section will ultimately lead to improved runnability and energy efficiency as well as better paper quality, Voith noted. These upgrades will include a new coating for the drying cylinders, the effective dryer fabric cleaning system CleanLine Extract 4D, a non-contact web drying system downstream of the starch applicator and Voith's solutions for web stabilization, ropeless tail threading and ModulePro moisturizer for optimum CD moisture profiles.
The start-up of the new facility is scheduled for early 2025.
Voith Paper, part of the Voith Group, is the full-line supplier to the paper industry, providing a wide range of technologies, services, components and products, and offers paper manufacturers solutions from a single source.
SOURCE: Voith