EPIQ Machinery Grows Global Service with Acquisition of Stymer Technologies in India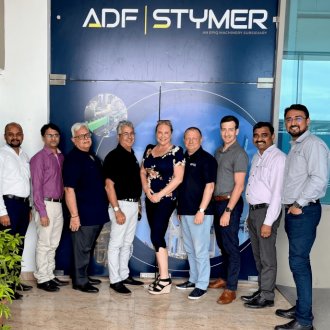 Éloïse Harvey, CEO of EPIQ Machinery (in the center), said the acquisition of Stymer Technologies increases EPIQ's flexibility to better service the global heavy-duty equipment market.
Oct. 16, 2023 - EPIQ Machinery recently announced the acquisition of Stymer Technologies under ADF Engineering, a subsidiary of EPIQ Machinery, a Canada-based company.
Based in Pune, Maharashtra, India, Stymer Technologies is an engineering services company that provides 2D drafting, 3D CAD, Finite Element Analysis, Computational Fluid Dynamics (CFD), Structural Detailing and analysis, and undertakes projects from concept to the delivery of fabrication drawings. Clients are located in Canada, Europe, USA, Gulf, and India.
According to EPIQ Machinery, the main shareholder of ADF Engineering, the acquisition is in line with the company's growth vision and its ongoing commitment to timely deliver high quality materials handling systems to its primary metals and pulp and paper customers worldwide.
"This acquisition is a landmark. We are reinforcing our synergies and consolidating our global presence," said Éloïse Harvey, CEO of EPIQ Machinery. "With our various centers of operations in Canada, France and now India, we are increasing not only our local capacities, but also our flexibility to better service the global heavy-duty equipment market."
In addition to its current activities, Stymer Technologies will work together with EPIQ Machinery technical teams in Canada to support the design of EPIQ's systems. The objective is to use this new capacity to maintain EPIQ's delivery commitment in line with market expectations.
"Indeed, EPIQ Machinery wants to expand its revenue stream through both the local market in India and our global clients using our production facilities in Pune and now this recently added engineering capacity," Ms. Harvey said.
Nilesh Shelke, Vice-President of Stymer Technologies, added, "The partnership of STYMER and ADF within the EPIQ Machinery group brings a new strength to our operations. Our team shall grow stronger in terms of competency and capacity both, to serve our customers in much better way. With EPIQ Machinery we focus on enhancing our customer experience, strengthening our delivery systems, and improving our infrastructure to suit our clients' needs."
EPIQ Machinery offers global solutions of innovative equipment to improve the handling and process flow of an aluminum smelter, pulp and paper mill and hydrometallurgy.
SOURCE: EPIQ Machinery