Visy Opens New Recycled Corrugated Box Plant in Queensland, Australia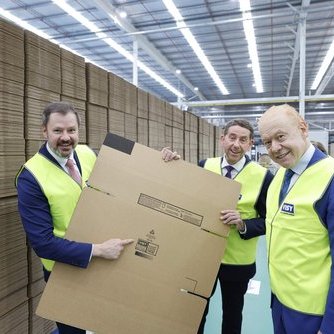 (l-r) Ed Husic, Federal Minister for Industry and Science; Cameron Dick, Queensland Treasurer; and Anthony Pratt, Visy Executive Chaiman tour Visy's new corrugated box plant in Hemmant, Queensland.
Oct. 10, 2023 - Visy announced the opening of its new corrugated box plant in Hemmant, Queensland, Australia.
The new box plant — opened on Oct. 9 by Queensland Treasurer Cameron Dick and Federal Minister for Industry and Science, Ed Husic — has the capacity to produce 1 million boxes per day, which will be utilized by food and beverage companies, farmers and growers.
The state-of-the-art facility is part of Visy Executive Chairman Anthony Pratt's commitment to invest $2 billion over the next decade — $700 million of that in Queensland-to reduce landfill, cut emissions and create thousands of green collar Australian manufacturing jobs.
Pratt praised the Queensland Treasurer's championing of Queensland manufacturing.
"The Queensland Government has created a great business environment for manufacturers to invest and grow in Queensland," said Pratt. "We've invested $175 million to build the most productive and technically advanced corrugated box making facility in the country. We've installed the latest 2.8m wide corrugator - the most modern corrugator in the southern hemisphere."
Instead of going to landfill or export, Visy recycles mixed paper and cardboard from Queensland businesses and households at its Gibson Island recycling facility and remanufactures it into 100% recycled paper. The new Hemmant factory will use the 100% recycled paper to make corrugated boxes for the state's farmers, and iconic food and beverage companies.
"100% recycled boxes from this facility are one of the ways we're using all of Australia's paper and cardboard, so it doesn't have to be landfilled or exported," Pratt noted.
The facility will directly employ over 100 Queenslanders in ongoing green-collar manufacturing jobs on site.
Visy is a leading, privately owned packaging and resource recovery company, with more than 120 sites across Australia, New Zealand and Thailand and trading offices across Asia, Europe and the USA.
SOURCE: Visy