WestRock and Smurfit Kappa Sign Definitive Agreement to Combine Companies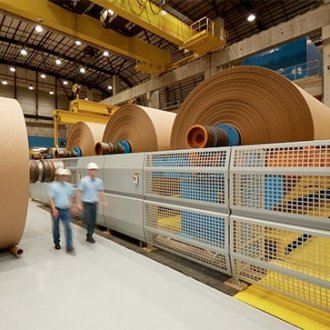 WestRock and Smurfit Kappa said the combination of the companies would provide improved operating efficiency and increased returns across approximately 500 converting operations and 67 mills.
Sept. 12, 2023 - Following the announcement of a possible combination dated 7 September 2023 ("Possible Combination Announcement"), the Boards of Smurfit Kappa, a FTSE 100 company, and WestRock, an S&P 500 company, are pleased to announce the signing of a definitive transaction agreement (the "Agreement") to create Smurfit WestRock, a global leader in sustainable packaging (the "Combination" or the "Transaction").
The Boards of Smurfit Kappa and WestRock see compelling strategic, commercial and financial rationale for combining Smurfit Kappa and WestRock's highly complementary paper-based packaging companies to create a global leader in sustainable packaging. The Combination will enhance Smurfit Kappa and WestRock's existing offerings by creating the global "Go-To" packaging partner of choice and bringing together:
Smurfit Kappa's industry-leading operational execution and innovation as a European leader in corrugated and containerboard as well as its large-scale pan-regional Americas presence that delivers best-in-class performance and returns; and
WestRock's leadership in the United States as well as its strong footprint in Brazil and Mexico, across corrugated and consumer packaging delivering a broad portfolio of packaging solutions serving diverse, growing end-markets.
Smurfit WestRock will have unparalleled geographic and product diversity with a culturally aligned customer focus and enhanced capabilities to serve customers globally. Together, Smurfit Kappa and WestRock generated combined last twelve months' adjusted annual revenue of approximately $34 billion as of 30 June 2023, which would make Smurfit WestRock the largest listed global packaging partner by revenue.
Terms of the Combination
The Transaction will involve the creation of a new holding company for the combined Smurfit WestRock. Smurfit WestRock will be incorporated and domiciled in Ireland with global headquarters in Dublin, Ireland and its North and South American operations will be headquartered in Atlanta, Georgia. Subject to shareholder approvals, regulatory approvals and other customary closing conditions, the Combination is expected to close in the second quarter of calendar year 2024.
Under the terms of the Agreement, for each share of common stock of WestRock (a "WestRock Share") the common stockholders of WestRock will receive one new Smurfit WestRock share (a "New Share") and $5.00 in cash.
This represents:
Total consideration to WestRock stockholders equivalent to $43.51 per WestRock Share, based on the closing share price of Smurfit Kappa ordinary shares on 11 September 2023, being the last closing price prior to this announcement (and converted to U.S. Dollars using an exchange rate of 1.075x, being the exchange rate on 11 September 2023); and
Combining Smurfit Kappa and WestRock on equivalent enterprise value to adjusted EBITDA multiples.
Smurfit Kappa shareholders will receive one New Share for each ordinary share in Smurfit Kappa. Immediately following completion of the Combination, Smurfit Kappa shareholders and WestRock stockholders are expected to own approximately 50.4% and 49.6% of Smurfit WestRock, respectively, based on the current number of shares outstanding of both Smurfit Kappa and WestRock as of the date of this announcement.
Commenting on the Combination, Tony Smurfit, CEO of Smurfit Kappa, said, "This incredibly exciting coming together of our two great companies is a defining moment within the global packaging industry. Smurfit WestRock will be the 'Go-To' packaging partner of choice for customers, employees and shareholders. We will have the leading assets, a unique global footprint in both paper and corrugated, a superb consumer and specialty packaging business, significant synergies, and enhanced scale to deliver value in the short, medium and long term."
Commenting on the Combination, David Sewell, CEO of WestRock, said, "We look forward to working with Smurfit Kappa to build a leading global platform that harnesses the strength of WestRock's consumer portfolio, presents a truly comprehensive offering of packaging solutions for customers and delivers meaningful value to our shareholders today and into the future.
"Smurfit Kappa shares our deep commitment to innovation across the packaging lifecycle, and we are confident that Smurfit WestRock will continue to lead the industry forward. I'm grateful to WestRock's team members, whose hard work has made this combination possible, and excited for the many opportunities that will arise from becoming part of the partner of choice in our industry."
The complete announcemnet is available on WestRock's website: Smurfit Kappa and WestRock Announce Transaction to Create a Global Leader in Sustainable Packaging
SOURCE: WestRock