Unifor Members "Devastated" by Lengthy Production Curtailment at Domtar's Espanola Mill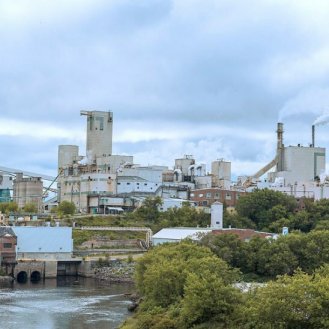 The Espanola Mill has the capacity to produce 280,000 air-dried metric tons of northern bleached softwood kraft pulp and approximately 69,000 tons of specialty paper.
Sept. 8, 2023 - Nearly 400 Unifor members and their families are grappling with the news of a year-long curtailment of the Domtar mill in Espanola, Ontario.
"There were hopes this mill would find a buyer and find a way to continue its legacy as a vital part of the Ontario forestry sector, but with today's news, workers are devastated," said Lana Payne, Unifor National President. "We fully expect workers to be protected in the event of corporate mergers that have occurred recently in the forestry sector and our union believes that jobs should be protected through the regulatory process surrounding such mergers."
Members were notified on Wednesday, September 6 that the mill will stop production on November 30, 2023, for a period of at least a year, with an intention to restart. Some workers will be required on site to keep the mill in an idling state so the facility is kept in good working order, but this will be a fraction of the current workforce.
"Losing this many jobs for a year or more will impact the whole community so we are of course hoping the shutdown will end as soon as possible," said Chris Presley, President of Local 74 at the mill. "Right now, we're focused on supporting the workers through this transition."
According to Domtar, the decision to idle the mill is the result of years of ongoing operating losses and high costs associated with maintaining and operating the facility.
Steve Henry, Domtar paper and packaging president, explained, "The Espanola mill has been challenged for some time now. We have worked diligently to find a viable path forward for the operation including offering it for sale."
The union and the company have meetings arranged over the coming days to discuss specifics and members will receive updates through their local union representatives.
"I think many of us are trying to keep our hopes up and help each other out," said Dean Houle, President of Local 156. "Forestry workers are used to ups and downs, but the longer we're down, the harder it will be to get up and running again."
Unifor Local 74 represents 250 members at the paper mill and Local 156 represents another 91 workers. The mill is the largest employer in the town of Espanola.
Unifor is Canada's largest union in the private sector and represents 315,000 workers in every major area of the economy.
SOURCE: Unifor
Read a related article on PaperAge's website: Domtar to Indefinitely Idle Espanola Mill in Ontario, Canada - Sept. 7, 2023.