Norske Skog Has Appointed Geir Drangsland as Its New Chief Executive Officer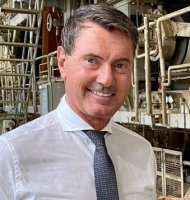 Geir Drangsland
Sept. 1, 2023 - The board of directors of Norske Skog ASA has appointed Geir Drangsland as the new CEO as of 1 September. Drangsland succeeds Tore Hansesaetre, who has decided to leave Norske Skog after more than 14 years to pursue career opportunities outside the company.
Drangsland has served as the chair of the board since March 2023, and steps out of that position.
Arvid Grundekjon has been selected the new chair of the board of directors. Grundekjøn has been member of the board of directors since 2018.
"I am pleased to announce Geir Drangsland as the new CEO of Norske Skog," said Grundekjon. Geir has an extensive background from the forest industry, and has worked closely with the management since his entrance in Norske Skog. At the same time, I will use the opportunity to thank Tore Hansesatre for his valuable contribution in Norske Skog's transformation journey both as CEO and responsible for the mill conversion projects."
Norske Skog is a world leading producer of publication paper with strong market positions and customer relations in Europe and Australasia. The Norske Skog Group operates four mills in Europe, two of which will produce recycled packaging paper following ongoing conversion projects. In addition, the Group operates one paper mill in Australia.
SOURCE: Norske Skog