Mercer International Inaugurates New Lignin Center at Rosenthal Pulp Mill in Germany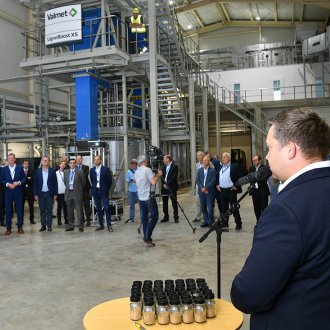 Dr. Lars Gabriel, head of the Mercer Lignin Center, explains the diverse potential of Lignin, a by-product of the utilization of wood cellulose.
Photo credit: Valmet.
Aug. 28, 2023 - Mercer International on Aug. 23 inaugurated the Mercer Lignin Center, which is located on the site of Mercer's Rosenthal pulp mill in Germany.
"Our focus is on the full utilization of wood resources," said Juan Carlos Bueno, CEO of Mercer International. "It is therefore only logical to exploit the often untapped potential of lignin."
Mercer Rosenthal produces kraft pulp and has an annual production capacity is 360,000 ADMTs. In addition, the mill operates the largest solid biomass-based power plant in Thuringia (a state of central Germany), with a thermal capacity of more than 400 megawatts and an electrical capacity of 57 megawatts. An important biobased by-product of mill's pulp production is tall oil, which replaces fossil products in the chemical industry. Lignin joins the mill's existing portfolio of bioproducts.
The Mercer Lignin Center is a fully integrated pilot plant with a maximum capacity of 1,000 kilograms of high-quality lignin per day on an area of 1,000 square meters. It is the first facility of its kind in Germany and includes storage facilities, on-site control rooms, offices and laboratory workstations. Integration into the pulp mill ensures smooth operation and enables the production of different lignin grades.
Lignin is a by-product of the utilization of wood cellulose and consists of various aromatic building blocks, the phenylpropanoids. This is what makes the raw material so valuable, because aromatic compounds are normally obtained from petroleum. Phenylpropanoids are used to manufacture a wide variety of materials and products such as plastics, medicines or paints. Other promising applications include the production of batteries and composite materials.
Bueno added, "The opening of the Lignin Center is another forward-looking contribution by Mercer to a strong bioindustry. We will continue on our path, investing in processes and technologies focused on continuous improvement and innovation in all areas of our business."
Mercer International is a global forest products company with operations in Germany, the USA and Canada, with an annual production capacity of 2.3 million tonnes of pulp, 960 million board feet of lumber, 210 thousand cubic meters of cross-laminated timber, 45 thousand cubic meters of glulam, 17 million pallets and 150,000 metric tonnes of wood pellets.
SOURCE: Mercer International Inc.