Ahlstrom Signs Agreement to Divest Stenay Paper Mill to Accursia Capital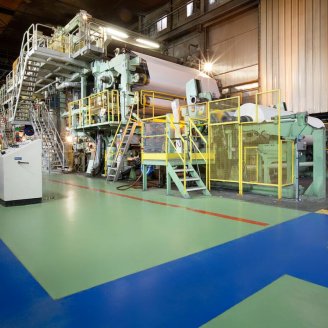 Stenay mill produces one-side coated specialty papers for specific uses in the packaging sector. The mill has the capacity to produce about 55,000 tons per year of specialty paper.
Aug. 25, 2023 - Ahlstrom has entered into an agreement to divest its Stenay paper mill in France to Accursia Capital, following the announcement of Accursia Capital's binding offer in July. The divestment was confirmed after receiving endorsement from the site's employee representatives.
Accursia Capital aims to develop the Stenay mill in order to guarantee its long-term future and, consequently, secure the jobs of its employees.
"We are delighted to announce this positive outcome for the future of our Stenay plant, its employees and the community of Stenay," said Mark Ushpol, EVP, Food and Consumer Packaging division. "This would not have been possible without the role of our team on site and the collaboration of all stakeholders."
Martin Scheiblegger, Managing Director of Accursia Capital, said, "This acquisition is part of a long-term investment strategy aimed at making Stenay a leading player in the highly competitive paper-based packaging market. We therefore look forward to developing the business of the Stenay site in collaboration with the employees."
The transaction is expected to be completed by the end of September.
Ahlstrom is a global leader in combining fibers into sustainable specialty materials. The company serves five end markets through its five divisions: Filtration, Food & Consumer Packaging, Healthcare, Building Materials, and Technical Materials.
SOURCE: Ahlstrom