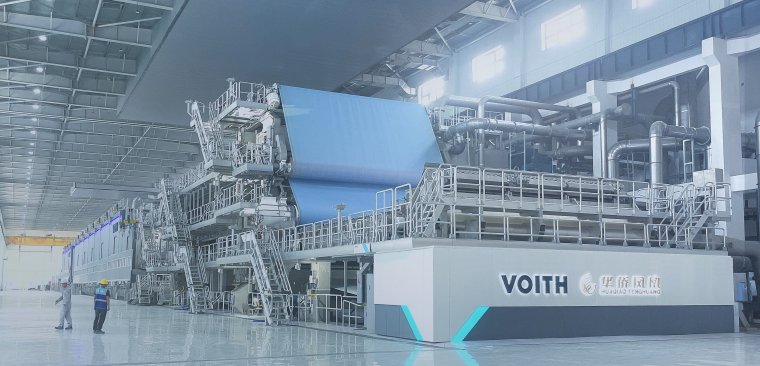 Huaqiao Fenghuang Starts-up New Packaging Paper Machine Supplied by Voith
August 23, 2023 - Sichuan Huaqiao Fenghuang Paper on Aug. 13 successfully started up its XcelLine packaging paper machine at the Guanghan site in southwest China. The new production line was delivered and installed by Voith.
According to Voith, the project set a new record for the fastest start-up of such a paper machine. Only six months passed from installation to successful start-up - two months ahead of schedule. The commissioning of the BlueLine OCC stock preparation system and the XcelLine paper machine took just four and five weeks, respectively.
"Many thanks for the hard work and technical innovation of both teams. The very good performance of PM 6 is the excellent result of the continuous efforts and close cooperation of both teams," said Yang Lichang, Project Manager at Huaqiao Fenghuang in Sichuan.
The new PM 6 has a width of 7.92 meters and a design speed of 1,400 meters per minute. The machine mainly produces high-quality packaging paper in the range of 90 to 170 gsm and has an annual production capacity of about 400,000 tons. The associated BlueLine OCC stock preparation line has a capacity of 2,200 tons per day.
"The successful start-up of PM 6 exemplifies the strong technical competence and professional qualifications of both teams, and it also demonstrates the benefits of full-line delivery from Voith," said Carlos Lin, Senior Vice President Order Processing and Operations at Voith Paper Asia-Pacific. "The full-line delivery reduces integration and coordination efforts for the customer, lowers operational risk and ensures product quality, all of which increase product competitiveness."
Voith also supplied control systems such as MCS, QCS, DCS, QMS and OnCare.Health. These advanced solutions enable full automation of the production process, ensuring stable product quality, a reliable process, and lower operating and maintenance costs.
Voith Paper, part of the Voith Group, is the full-line supplier to the paper industry, providing a wide range of technologies, services, components and products, and offers paper manufacturers solutions from a single source.
SOURCE: Voith