Mondi to Acquire Hinton Pulp Mill from West Fraser for USD 5 Million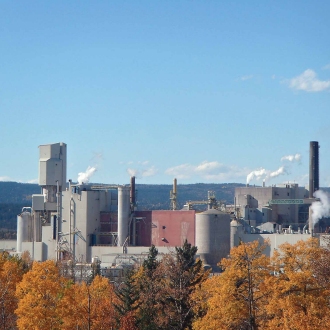 Mondi intends to invest EUR 400 million in the expansion of the Hinton pulp mill, primarily for a new 200,000 tonne per year kraft paper machine.
July 10, 2023 - Mondi has agreed to acquire the 250,000 tonne per year Hinton Pulp mill in Alberta, Canada, from West Fraser Timber Co. Ltd (West Fraser) for a total consideration of USD 5 million.
As part of the transaction, Mondi will enter into a long-term partnership with West Fraser to access local, high-quality fibre from a well-established wood basket.
The intention, subject to pre-engineering and permitting, is to invest EUR 400 million in the expansion of Hinton, primarily for a new 200,000 tonne per year kraft paper machine, anticipated to be operational from the second half of 2027.
According to Mondi, the acquisition of the mill, and investment in the paper machine, will fully integrate operations in the Americas and enable Mondi to secure the long-term supply of high quality, cost competitive kraft paper into its network of 10 paper bags plants in the region, better positioning Mondi to support the growing market demand for industrial and mailer bags.
"Strategically, we are focused on investing to support the growing market demand for our sustainable packaging products, while delivering attractive mid-teen returns through cycle," said Andrew King, CEO of Mondi. "The acquisition of Hinton is an excellent opportunity for us to secure locally produced kraft paper for our bags customers, helping to meet the current and anticipated future growth in demand for industrial and mailer bags in the Americas.
"We are delighted to be making this investment in Canada and look forward to working with Hinton colleagues, West Fraser as a long-term partner, and other local stakeholders towards improving the mill's environmental footprint and securing its sustainable future," King added.
The acquisition is subject to customary regulatory clearance and is expected to close towards the end of 2023.
Mondi is a global leader in packaging and paper, offering innovative and sustainable packaging and paper solutions. The company is fully integrated across the packaging and paper value chain.
SOURCE: Mondi plc
PaperAge editor's note: The Hinton pulp mill has two production lines. However, in 2022, West Fraser permanently shut one of the lines and changed the pulp grade on the remaining line to produce Unbleached Kraft Pulp ("UKP") rather than Northern Bleached Softwood Kraft Pulp ("NBSK"). When both production lines were operational, the pulp mill had the capacity to produce 380,000 metric tonnes per year of NBSK.