In-Place Machining Company Streamlines Operations with Newly Expanded Ohio Facility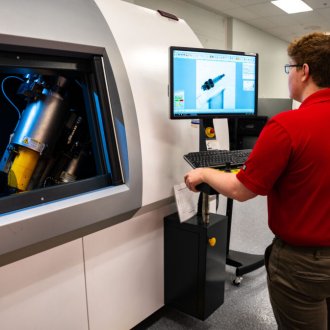 Exact Metrology is an ISO 9001:2015 and AS 9100 Rev D certified company that offers contract measurement and scanning services, metrology equipment solutions, and hardware and software rentals
July 3, 2023 - In-Place Machining Company (IPM) is pleased to announce the addition of Exact Metrology at the company's newly expanded IPM Ohio industrial facility, located at 6665 Creek Road in Blue Ash, Ohio. Centralizing the Ohio divisions of IPM, OASIS Alignment Services, and Exact Metrology will allow for improved collaboration and a more integrated approach to industrial solutions in this key region.
In-Place Machining company provides precision field machining, welding, and large-scale diamond wire cutting and drilling.
Speaking from IPM corporate headquarters in Milwaukee, Wisconsin, IPM President and CEO Dean Flint said, "We see this move as a classic case of the whole being greater than the sum of the parts."
Flint went on to explain the synergy of having three prominent suppliers to industry in the Ohio area. "In IPM, we have a leading force in precision industrial machining services plus large-scale wire cutting and drilling. Coupled with the machine alignment expertise of OASIS Alignment Services and the dimensional metrology and onsite scanning capabilities of Exact Metrology, we can now provide faster assessments on potential projects, situation analyses, service execution, and 3D measurement data capture solutions.
"This unified team will represent a formidable partner to our existing and potential customers in the region," Flint continued, noting the collaboration of the three companies at one location will enhance customer service, while utilizing shared resources and staff capabilities.
In-Place Machining Company is the premier provider of high-precision on-site machining, metrology, and large scale cutting & drilling services.
SOURCE: In-Place Machining Company