SCA Inaugurates Its New Ortviken Pulp Mill in Sundsvall, Sweden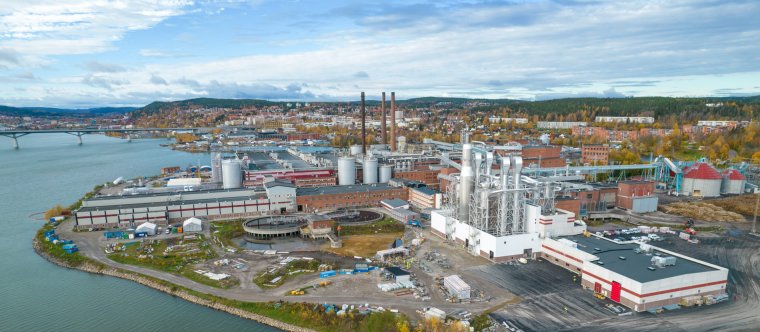 SCA's new Ortviken pulp mill (on the right half of the image) at the Ortviken industrial site in Sweden.
May 19, 2023 - SCA on May 16 inaugurated its new pulp mill at its Ortviken industrial site in Sundsvall, Sweden. Berit Högman, Governor of Västernorrland County, gave a ceremonial speech, while Swedish professional woodchopper and logging sportsman Ferry Svan performed a "ribbon cutting" by sawing through a log.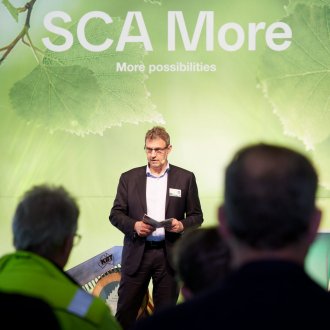 SCA's President and CEO, Ulf Larsson, makes his opening remarks at the inauguration ceremony.
SCA's President and CEO, Ulf Larsson, started the opening ceremony in Herrgårdsparken next to the Ortviken site, highlighting that the project was delivered and completed on budget and ahead of schedule, and strengthening SCA's operations and competitiveness on the global market.
"On time and within budget is SCA's mantra — we have lived by this credo this time too despite major challenges such as the pandemic, semiconductor shortages, disruptions in the supply chain and a war in Europe," Larsson said to the audience at the ceremony.
Larsson also asked the guests to send a thought to the relatives of the employee of a subcontractor who died in a workplace accident during construction.
Governor Högman followed with a ceremonial speech, underlining the importance of a strong forest industry in the county and the climate benefits that are created when renewable paper pulp replaces fossil materials.
Mill Manager Anders Granström also made a speech during the ceremony.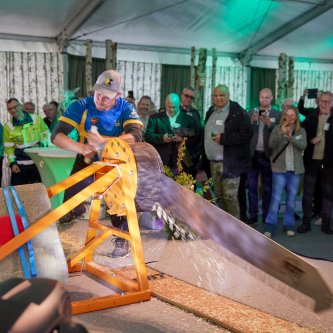 Ferry Svan cut the ribbon by sawing through a log.
The finale was the formal ribbon cutting — in the form of a log — where Svan handled the sawing.
The guests were also able to take part in exhibitions in the opening area and guided tours around the new pulp mill.
Ortviken Mill Project
The investment of SEK 1.5 billion in Ortviken's industrial site was announced in August 2020. The project is designed to increase SCA's production of Chemi-Thermo-Mechanical Pulp (CTMP) from approximately 90,000 tons per year to 300,000 tons per year.
Based in Sundsvall, Sweden, SCA consists of five business units: Forest, Wood, Pulp, Paper, Renewable Energy, and its supporting unit Sourcing & Logistics. SCA's forestry operations manage SCA's forest holding with 2.6 million hectares of forest land in northern Sweden and 50,000 hectares in Estonia and Latvia.
SOURCE: SCA
Go to a related article at PaperAge: SCA to Invest in Pulp Production, to Discontinue Production of Publication Paper at Ortviken Mill - August 2020.