Stora Enso Completes Divestment of Its Hylte Paper Mill to Sweden Timber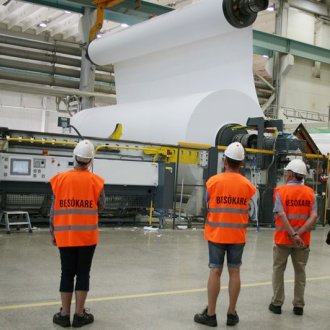 The Hylte Mill in southwest Sweden is one of the largest newsprint mills in the world, and has the capacity to produce 245,000 tonnes of high-quality newsprint per year, along with biocomposites and formed fibre products.
April 4, 2023 - Stora Enso has completed the divestment of its paper production site in Hylte, Sweden announced on 27 January 2023, and all related assets to Sweden Timber, a Sweden-based sawmill and planing mill company.
The enterprise value of the transaction is approximately EUR 18 million and will result in the reduction of Stora Enso's annual newsprint paper capacity by 245,000 tonnes.
Using 2022 figures as a benchmark, the divestment is expected to reduce Stora Enso's annual sales by approximately EUR 160 million.
As announced earlier, Stora Enso will book a disposal loss of approximately EUR 35 million, in addition to an impairment loss of EUR 19 million recorded in Q4/2022 in its IFRS operating profit in Q2/2023, as an item affecting comparability. The final value will be subject to closing date adjustments.
The transaction, part of the earlier announced plan to divest four of Stora Enso's five paper production sites, does not affect Stora Enso's formed fiber and biocomposite operations located at the Hylte site.
The paper operations divestment plan was concluded on 27 January 2023 when Stora Enso announced the agreement to divest the Hylte site and to discontinue the divestment process of the Anjala paper production site in Finland.
The divestment of the Nymölla paper site in Sweden was completed on 2 January with ownership transferred to Sylvamo, while the divestment of the Maxau paper site in Germany to Schwarz Produktion was completed on 1 March.
Stora Enso's Paper division was discontinued as of 1 January 2023, with the retained Langerbrugge (Belgium) and Anjala paper production sites being integrated into Packaging Materials division reporting.
In line with its strategy, Stora Enso's focus moving forward is on long-term growth potential for its renewable products in packaging, building solutions and biomaterials innovations.
About Sweden Timber
Sweden Timber is a Swedish-owned and growing wood industry company. The company produces and sells high-quality wood products to the construction industry and wood retailers, with customers in several export markets. The business today consists of sawmills and planing production sites in four Swedish locations, Malmbäck, Hjortkvarn, Skillingaryd and Mora.
Stora Enso is a leading provider of renewable products in packaging, biomaterials and wooden construction, and one of the largest private forest owners in the world.
SOURCE: Stora Enso