ABB Opens R&D Center in Ireland to Drive Technological Advancements in Pulp and Paper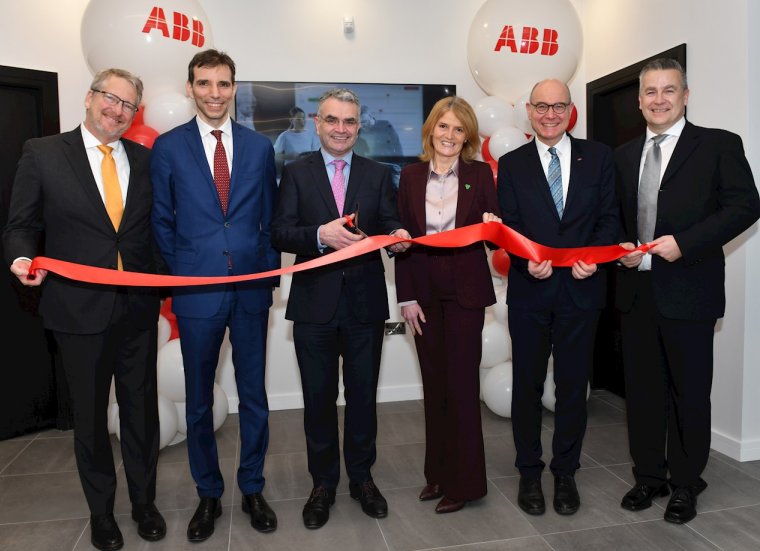 Marking the opening of the ABB Dundalk R&D Centre (l-r) William Dannelly, Product Line Manager – QCS, ABB; Stefano Cinquina, Business Line Manager, Pulp & Paper, ABB; Dara Calleary T.D., Minister of State at the Department of Enterprise Trade & Employment; Mary Buckley, Interim CEO, IDA Ireland; Joachim Braun, Division President, Process Industries, ABB; Michael Kerley, Global Technology Manager for ABB Pulp & Paper.
March 8, 2023 - ABB on Feb. 27 officially opened a global research and development (R&D) center for the pulp and paper industry in Dundalk, Ireland.
The new multi-million-dollar ABB Dundalk R&D Centre is at the heart of ABB's automation and digital offering for the sector and will be home to the ongoing evolution of the ABB Quality Control System (QCS). New ideas and products will be piloted and managed into the suite of applications for improved quality in the complex world of papermaking. This will include solutions for measuring, adjusting, optimizing and controlling quality as the paper web makes its way through the paper machine to form the end-products, including paper and board.
ABB's vision for the center is to develop solutions that respond to global trends and can meet the sustainability goals of the rapidly evolving industry. This project is supported by the Irish Government through IDA Ireland.
"ABB has been a leading employer in Dundalk for 40 years," said Mary Buckley, Interim CEO, IDA Ireland. "This new R&D centre is a significant expansion and is very much aligned to IDA Ireland's Sustainability pillar that is central to our current strategy. I wish ABB every success with this multi-million-euro investment."
IDA Ireland was originally created to help attract foreign investment into the country and has links to ABB stretching back to the 1980s. A government-backed autonomous state agency, the organization continues to support companies to access Ireland's skilled and diverse talent base through university and professional associations.
Michael Kerley, Global Technology Manager for ABB Pulp & Paper, and Dundalk local, said, "This new center represents ABB's proud heritage and presence in Ireland, which is extremely important to us. In addition to being a hub for technological innovation in the pulp and paper industry, the new center will play a vital role in creating up to 30 high-level job opportunities over the next three to five years, thereby bolstering the talent pool in Ireland and supporting the local economy."
Dundalk is one of ABB's four main Pulp and Paper R&D centers globally, along with Bangalore, Singapore, and Stockholm. It will also serve as a sales and service office for ABB Robotics & Discrete Automation, who have had a presence in Ireland for 25 years.
ABB is a technology leader in electrification and automation, enabling a more sustainable and resource-efficient future.
SOURCE: ABB