Voith to Convert Idled Paper Machine at Stora Enso's Oulu Mill to Packaging Grades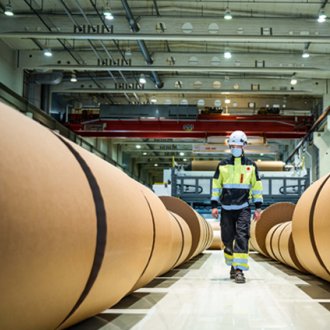 Stora Eno's decision to convert the Oulu's mill's idle paper machine follows the conversion of the mill's other machine (formerly paper machine 7, now BM 7) in 2021 from paper to kraftliner.
Feb. 1, 2023 - Voith will convert an idled paper machine at Stora Enso's Oulu Mill in northern Finland to the production of high-volume consumer board. The machine, paper machine 6, which previously produced coated graphic papers, will have the capacity to produce 750,000 tons per year of folding boxboard (FBB) and coated kraft back (CKB).
Start-up is scheduled for early 2025.
"We are very pleased that Stora Enso has chosen our full-line solution," says Dr. Michael Trefz, President Projects at Voith Paper. "The order builds our existing partnership with Stora Enso further. After the conversion, the board machine will be a high-tech plant with the latest standards to produce high-quality board packaging."
To achieve the high production volume, Voith together with Stora Enso developed a tailor-made concept that maximizes both efficiency and sustainability along the entire paper machine. The scope of supply includes a new, three-layer wire section with the DuoFormer D II. The high-performance Triple NipcoFlex shoe press concept will enable maximum production output at the highest quality level. At the same time, the efficient technology will minimize specific energy and production costs.
In addition, Voith will implement its OnControl.Machine MCS for the automation of the board machine, an OnQuality quality control system, and an OnCare.Health condition monitoring solution. The dataPARC cloud serves as the IIoT platform.
Stora Enso's converion plans for paper machine 6 follows the successful conversion of the Oulu mill's other machine (formerly paper machine 7, now BM 7) from paper to kraftliner. BM 7 started up in January 2021.
Stora Enso announced in October 2022 the decision to move ahead with the conversion of paper machine 6 to board production, stating, "The investment supports the Group's growth strategy in renewable packaging by providing new volume for growing packaging segments. The target end-use segments are food and beverage packaging, especially frozen and chilled, and dry and fast food, mainly in Europe and North America."
Oulu Mill
Currently, the Oulu Mill in northern Finland has the capacity to produce 450,000 tonnes per year of kraftliner and 530,000 tonnes per year of unbleached softwood pulp.
Voith Paper, part of the Voith Group, is the full-line supplier to the paper industry, providing a wide range of technologies, services, components and products, and offers paper manufacturers solutions from a single source.
SOURCE: Voith and Stora Enso
Go to a related article: Stora Enso to Invest EUR 1 Billion for Conversion of Idled Paper Machine at Oulu Mill to Paperboard - Oct. 21, 2022.