Valmet to Supply Sappi with Paper Machine Conversion Rebuild at Somerset Mill in Maine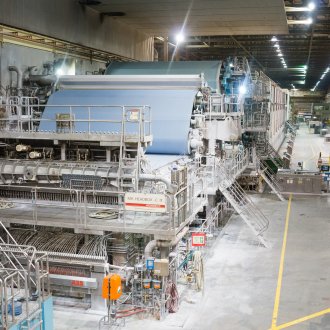 Paper Machine No. 2 — a coated freesheet machine — at Sappi North America's Somerset Mill in Skowhegan, Maine, will be rebuilt to produce solid bleached sulfate (SBS) board.
Jan. 30, 2023 - Valmet announced that it will supply an extensive rebuild for Paper Machine No. 2 (PM 2) at Sappi North America's Somerset Mill in Skowhegan, Maine. Previously, Valmet rebuilt the mill's Paper Machine No. 1 (PM 1).
PM 2's production will be converted from 240,000 tons per year of coated freesheet to 470,000 tpy of solid bleached sulphate (SBS) board.
"Valmet has proven to be a trusted supplier to Sappi over the years and we're pleased to work with them again on our PM2 project," said Michael Haws, President and CEO of Sappi North America. "This investment is fully aligned with our Thrive25 strategic focus to reduce our exposure to graphic paper and transition our portfolio to packaging and specialty papers, pulp and biomaterials."
Jukka Tiitinen, Area President, North America for Valmet, said, "We look forward to continued collaboration with Sappi North America, and we thank them for their partnership on another conversion project. We know the demand for packaging and specialty papers in North America is high and we're confident that through our combined efforts, we'll meet future market needs."
PM2 will be rebuilt using some of the most advanced packaging manufacturing technology to produce a variety of both packaging and coated paper products.
Valmet's delivery will include a number of modifications and new machine parts in the existing machine to meet the requirements of the new packaging grades. In addition, the mill will benefit from Valmet Industrial Internet and Automation Solutions including a new Quality Measurement System, a Process Control System (DCS and Valmet DNA), web monitoring and web inspection systems.
Start-up of the rebuilt paper machine is scheduled for mid-2025.
Somerset Mill
The Somerset Mill has three paper machines (PM 1, PM 2, and PM 3) and the capacity to produce 970,000 metric tons per year of coated woodfree paper and 525,000 metric tons of bleached chemical pulp for its own consumption and as market pulp.
Valmet is a leading global developer and supplier of process technologies, automation and services for the pulp, paper and energy industries. With its automation systems and flow control solutions, Valmet serves an even wider base of process industries.
SOURCE: Valmet and Sappi North America
Read a related article: Sappi Announces $418 Million Paper Machine Rebuild at its Somerset Mill in Skowhegan, Maine - Nov. 10, 2022.