Opal Considers Closure of White Paper Operations at Maryvale Mill Due to Wood Fiber Supply Shortage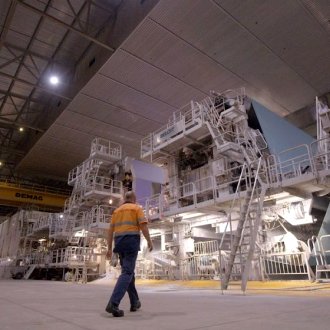 Opal Australian Paper's Maryvale Mill in Victoria, Australia, operates two recycling plants, three pulp mills and five paper machines.
Jan. 24, 2023 - Opal Australian Paper announced that it is "seriously considering" closing the "white side operations" (inkjet, printing and copy paper) of its Maryvale pulp and paper mill due to a supply shortage of timber used for the production of pulp.
The mill is located in Maryvale, Victoria, Australia.
Opal said it has been working to address the current shortfall in the supply of logs from VicForests. "To be viable, the alternative supplies must match a range of strict criteria including species, availability, volume, cost, logistics and long-term supply," Opal said.
VicForests harvests, sells and regrows timber from Victoria's native forests.
Victoria's Supreme Court in November 2022 ordered stricter rules for VicForests operations, after it found the government-owned agency broke the law by failing to adequately protect the yellow-bellied glider and the endangered greater glider (two species of possum) in Victoria.
Opal said that it has been considering a number of different operational scenarios for the longer term, in case possible alternative wood sources are below the volumes required or are not commercially feasible.
In a press release, Opal said, "Despite our best endeavours, Opal has been unable to source viable alternative wood supplies to replace the VicForests shortfall. As a result, we are now seriously considering the potential future closure of white side operations at the Maryvale Mill and are consulting with our team members on this scenario.
"While we will be consulting extensively with our Maryvale team members, no operational decisions have been reached at this stage.
"We remain focused on securing the future of the Maryvale site, which has a key role to play in manufacturing paper for the Opal Packaging Division.
"Opal continues to engage in active discussions with the Victorian Government and union representatives about this situation. We have reached an agreement with the Victorian Government ensuring that until mid-February Opal team members who may be stood down will receive full pay. This is intended to provide certainty for Opal team members while the company and the Victorian Government progress discussions on any further support for the Mill's future operations.
"In addition to Opal's own Employee Assistance Program and other support services, a new Worker Support Service has been established by the Victorian Government to support Opal Australian Paper team members affected by potential stand downs and operational changes as may be required.
"While the current situation is difficult for everyone, Opal remains committed to keeping our team members, customers and key stakeholders updated on further developments. We are continuing to work diligently with a view to providing clarity for our team members as soon as practicable."
The Maryvale Mill
The Maryvale Mill opened in Victoria's Latrobe Valley in 1937 and has since grown to be one of the largest employers in the region, manufacturing close to 600,000 tonnes of paper and board annually. The mill site operates:
two recycling plants - cardboard (brown) recycling plant; and a wastepaper de-inking plant for white recycled paper.
three pulp mills - pine kraft mill; eucalyptus NCCS mill; eucalyptus kraft mill and bleach plant.
five paper machines - M1 (bag and sack papers); M2 (machine glazed bag papers); M3 (inkjet, printing, envelope, copy papers); M4 (kraftliner); and M5 (copy and printing papers).
Opal Australian Paper is a vertically integrated manufacturer of pulp and paper, and Australia's only manufacturer of copy, printing and inkjet papers, and bag, sack, and industrial papers.
SOURCE: Opal Australian Paper and local news report