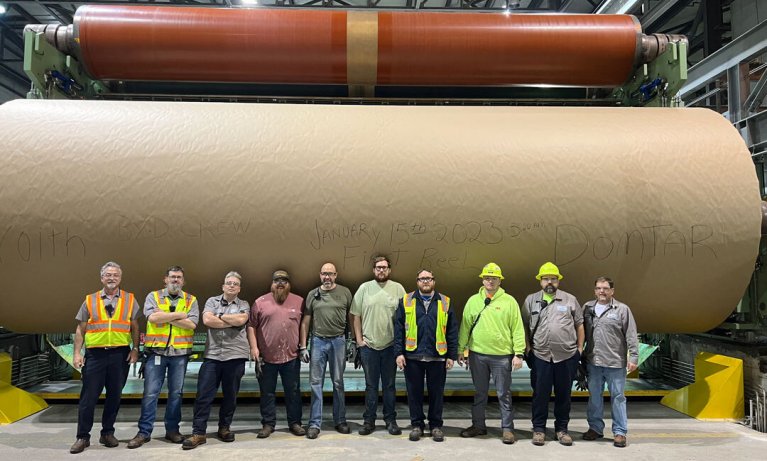 Domtar's Kingsport Mill Resumes Operation; Produces First Containerboard Roll
Jan. 18, 2023 - Domtar announced that its Kingsport Mill in Tennessee recently produced its first 100 percent recycled containerboard.
The milestone marks the culmination of a two-year, $350 million investment project to convert the former uncoated freesheet paper mill into Domtar's first 100 percent recycled packaging facility. The repurposed paper machine has the capacity to produce about 600,000 tons per year of high-quality recycled linerboard and corrugated medium.
Employees celebrated by posing for photos with the first reel and even taking a few paper samples to remember the occasion.
"This is a monumental day for Domtar that marks our official entry into the containerboard market," said Steve Henry, Domtar executive vice president and chief operating officer. "I am proud of the packaging, mill and extended Domtar team for their hard work and commitment. We are also grateful to our community for their support throughout the project."
The Kingsport Mill is the largest recycled manufacturer in Tennessee, home to the second-largest recycled containerboard machine in North America. Each year the mill will convert about 660,000 tons of recovered fiber into high-quality recycled Performance Linerboard and Corrugated Medium.
Producing containerboard products directly aligns with Domtar's expertise and 175-year legacy of turning fiber into useful products.
"We aren't interested in being just another containerboard supplier," Senior Sales Director Mike Butler said. "We want to become North America's premium producer with deep and lasting partnerships with independent corrugators. We are leveraging our experience as global leaders in pulp and paper to serve the packaging industry by focusing on customers' success and consistently delivering the highest quality products."
Domtar will hold an official grand opening celebration at the Kingsport Mill in 2023.
Domtar is a leading provider of a wide variety of fiber-based products including communication, specialty and packaging papers, market pulp and airlaid nonwovens.
SOURCE: Domtar