The BC Pulp and Paper Sector: A Crisis With Solutions In Plain Sight
By David Elstone, Registered Professional Forester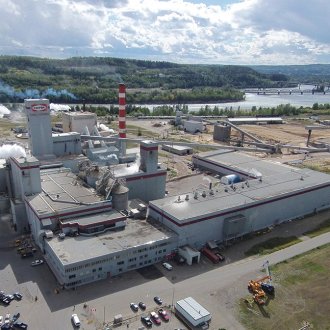 Another BC mill curtailment: Canfor Pulp on Oct. 18 announced the implementation of a two-week curtailment at its The Intercontinental Pulp Mill Prince George, BC, due to the lack of available economic fibre.
October 2022 - The Quesnel Cariboo Observer published a short and perhaps low-key article on September 29, 2022, "16-day curtailment planned at Cariboo Pulp and Paper due to forestry challenges." The announced pending curtailment is expected to affect 160 employees and take affect October 29. According to a spokesperson for West Fraser Mills, one of the joint owners of the facility (the other owner being Mercer International), "the curtailment is necessary to better align… operating capacity with the available supply of wood chips."
While not a frequent occurrence, occasional hiccups in fibre supply sometimes force pulp mills to slow production. However, rarely do pulp mills shut down temporarily — an action typically to be avoided at all costs as it takes multiple days to take down and bring up a pulp mill to full production in a safe and efficient manner.
All the more concerning when the West Fraser Mills spokesperson conveyed the reasons for this curtailment…
"Timber supply and access has become an increasing challenge in British Columbia. …Infestation, wildfire, forest policy decisions and other considerations have resulted in fewer logs being processed in Interior sawmills, and therefore fewer wood chips and pulp logs are available as feedstock for BC pulp mills."
These issues are largely specific to British Columbia including decisions made by the provincial government. If fibre supply issues can't be overcome, there will be consequences — the curtailment for Cariboo Pulp and Paper is indicative of that.
THE PROBLEM
At issue is a four million cubic metre current shortfall in fibre supply for pulp and paper mills according to a study funded by the BC Pulp and Paper Coalition. That study, done in 2021 demonstrated that if all of the forest policies being considered at that time by the BC government were enacted (including old growth deferrals, caribou habitat protection etc.), that up to 10 sawmills and 3 pulp and paper facilities would be at risk.
Since that study, new policies have been implemented including the old growth deferrals which have led to the painful fulfillment of that forecast on mill closures. Multiple pulp and paper mill closure have been announced including Cariboo Pulp and Paper made a couple of weeks ago and Paper Excellence announcing just a few days ago on October 6th that there will be an indefinite curtailment at its Crofton mill's paper operations starting December 2022.
Also, on the list of mills with a tenuous future... read the complete article on Spar Tree Group's website: www.spartreegroup.com/post/a-crisis-with-solutions-in-plain-sight.
About the Author
David Elstone is a professional forester and a highly-regarded industry expert with over twenty-five years of experience within the forest sector.
Spar Tree Group Inc. aims to support the decision-making processes of the many and varied supplier and service providers that form the supply chain for the forest industry. To learn more, visit: www.spartreegroup.com.
SOURCE: Spar Tree Group