Pratt Industries Officially Opens New Corrugated Box Plant in Park City, Kansas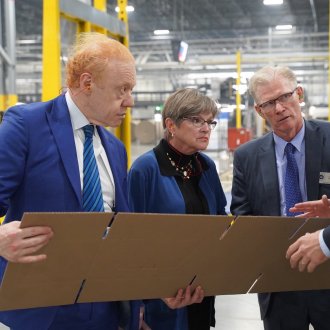 (l-r) Anthony Pratt, Executive Global Chairman of Pratt Industries / Visy; Kansas Gov. Laura Kelly; and Brian McPheely, Global CEO VISY / Pratt Industries toured Pratt Industries' new corrugated box plant in Park City, Kansas.
Oct. 17, 2022 - Governor Laura Kelly on Oct. 4 joined officials from Pratt Industries as they opened their new state-of-the-art advanced manufacturing corrugated box plant in Park City. The plant represents a $200 million investment that will create 58 new high-paying, quality jobs in Sedgwick County over the next five years.
The Governor and Pratt executives took a tour of the plant and gave remarks celebrating the company's investment.
"Pratt's continued investment in our state shows that when we support workers and businesses, Kansas thrives," said Governor Laura Kelly. "Now, 58 more Kansans will have high-paying jobs and $200 million will be brought into Park City — reinforcing that we all benefit from our growing economy."
The almost 1 million square-foot Park City facility will accommodate increased production capacity, employ 300 full-time "green collar" manufacturing jobs, and increase its presence in the greater Wichita area. The company will continue its recycling operations at the existing Wichita facility and use the new plant for manufacturing operations.
Executive Global Chairman, Anthony Pratt, said, "I commend Governor Kelly for her strong economic leadership which has attracted more than $14 billion of new business investment in Kansas since 2019, including our $200 million investment in Wichita. The box factory will employ 300 Kansans in well-paying, green collar manufacturing jobs at an average wage of almost $100,000 per person — and will allow the company to grow for years to come, supporting our customers, employees and the community."
Pratt Industries is America's 5th largest corrugated packaging company and the world's largest, privately-held producer of 100% recycled containerboard. The Georgia-based company operates an extensive Recycling Company to supply its five 100% recycled paper mills in the U.S. To learn more visit: www.prattindustries.com.
SOURCE: Kansas Department of Commerce