PaperAge's Editor-in-Chief, Jack O'Brien, Has Passed Away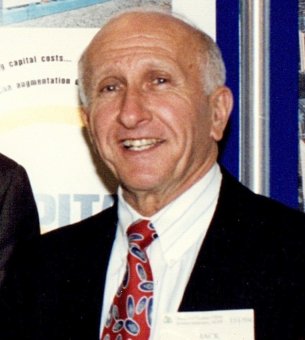 Longtime Editor and Publisher of PaperAge magazine, Jack O'Brien.
Sept. 22, 2022 - It is with great sadness that we inform our industry friends of the death of John F. "Jack" O'Brien. Jack died on the afternoon of September 6 surrounded by his family. He would have turned 95 on December 5 of this year.
Jack is predeceased by his beloved wife Barbara and his beloved daughter Susan. He will be lovingly remembered by his sons John and his wife Carol, Michael and his wife Janice, Steven, and daughter Kathy and her husband Erik. "Papa" will also be greatly missed by his grandchildren: Brendan, Elizabeth, Michael, Jenna, Kyle, Hayley and Jake.
Jack was born in Quincy, Massachusetts to John and Lottie O'Brien. As a young man, he was a skillful sailor, winning numerous awards racing small, one- and two-person sail boats. In high school he played football for Thayer Academy and went on to Boston University where he majored in Journalism.
Around the time Jack was finishing college, he met the love of his life, Barbara Drake, also from Quincy. They married in May of 1954, built a house in Scituate, Mass. and moved in that same year. It was a home they loved, raised their children in and lived their entire lives.
Jack also completed Officer Candidate School with the Army National Guard and was appointed as a Reserve Commissioned Officer at the grade of Second Lieutenant from 1954 through 1961.
The Paper Industry Beckons
A young Jack O'Brien with his dad John at a paper industry conference. (Circa 1955).
After graduating from BU, Jack joined his dad's publishing business, writing news stories and selling advertising space in a weekly business publication titled "Paper Mill News." His dad also published the Lockwood Post Directory, which he sold in the late-50s to Miller Freeman, Inc., a San Francisco-based publisher of trade books and business magazines — notably Pulp & Paper magazine.
His dad retired around 1960, and with the paper industry now in his blood, Jack was hired by Miller Freeman as its Northeast Regional Sales Manager. His job included selling ad space in Pulp & Paper and writing articles about the paper producers and industry suppliers he visited.
In the early 70s, Jack's colleague, Ken Johnson, acquired PaperAge magazine from the Walden Mott Corporation and shortly thereafter asked Jack if he would be interested in becoming a partner in the business and join him as co-publisher, which of course he did.
Jack visited many, many paper mills and industry suppliers throughout the U.S. and Canada. He loved the people he met and never left home without his camera, tape recorder and yellow legal note pad.
As PaperAge widened the scope of its reporting on a more global scale, Jack's travels brought him to a number of countries including Norway, Sweden, Finland, Germany, Italy, and one trip to St. Petersburg, Russia.
Jack was a longtime member of Tappi and attended countless Tappi conferences and exhibitions. He was an advocate for the industry, and in 1988 held PaperAge's first presentation ceremony for what has become our annual "Executive Papermaker of the Year" award, which was held at the former Waldorf Astoria Hotel in New York City during AF&PA's Paper Week convention.
Jack lived a long, full and interesting life. We will always carry his memory in our hearts.
A full tribute to Jack will be published in the September/October 2022 issue of PaperAge.
SOURCE: PaperAge / O'Brien Publications, Inc.