Twin Rivers Paper Announces Additions to Executive Team
Robert Harvey
July 18, 2022 - Twin Rivers Paper Company is pleased to announce recent additions to its executive leadership team.
Robert Harvey joined Twin Rivers as the company's Chief Operations Officer in February. A native of Maine, Harvey recently relocated to the company's flagship operation and headquarters office in Madawaska, Maine.
Tyler Rajeski was named Vice President of Finance in April 2022, leading the company's finance, accounting, treasury and tax functions.
"Rob and Tyler are great additions to our executive team, bringing a high level of expertise to their respective roles," stated Debarata 'Deba' Mukherjee, CEO of Twin Rivers Paper. "The deep papermaking and continuous improvement experience Rob brings to the business has already resulted in operational improvements. Tyler was working closely with our team and creating value via his role with Atlas Holdings, enabling a fast and seamless transition."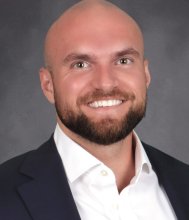 Tyler Rajeski
Originally from Millinocket, Maine, Harvey began his career as a production manager with Great Northern Nekoosa. He joined Twin Rivers from Essity, where he was responsible for the company's Midwest region operations. Harvey's experience includes senior operations roles with SCA Tissue, Wausau Paper, Kruger Inc. and Katahdin Paper.
Harvey holds a Bachelor of Science in mechanical engineering technology from the University of Maine and a Master of Science in business from Husson University in Bangor, Maine.
Prior to joining Twin Rivers, Rajeski held associate and senior associate positions with leading private equity firm Atlas Holdings. While at Atlas, Rajeski worked closely with various companies in the Atlas portfolio, including Twin Rivers Paper and Finch Paper.
Rajeski began his career at GE, gaining global leadership experience across a variety of GE's businesses and finance functions including FP&A, supply chain, treasury, and corporate audit. During his five-year tenure at GE, Rajeski completed GE's Financial Management Program. He holds a degree in finance from Siena College.
Twin Rivers Paper Company, headquartered in Madawaska, Maine, is an integrated specialty paper company that produces specialty packaging, label, publishing, kraft, and technical specialty papers as well as dimensional lumber. To learn more, visit: www.twinriverspaper.com.
SOURCE: Twin Rivers Paper Company