Walki Purchases New Allstein Flexographic Printing Press for Pietarsaari Plant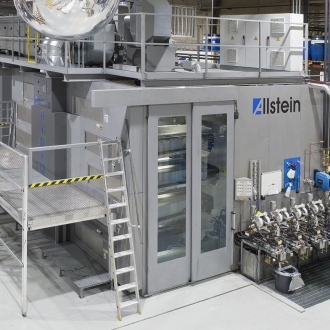 May 12, 2022 - Walki said that it has made a significant investment in its Pietarsaari plant in Finland by purchasing a 10-color flexographic printing press.
According to Walki, the new printing press enables better and more accurate printing, which is important particularly in the highly competitive food industry.
"The need for sustainable packaging is growing in the food industry. In addition to sustainability criteria, customers are also expecting high-quality, photographic printing and reproducibility," says Petteri Pihajoki, Production Manager at the Pietarsaari plant.
The new printing machine is also suitable for heat-sealable solutions for non-food items and e-commerce packages. The printing width of the Allstein press is 1600 millimeters, which is sufficient for large packages, like corrugated cardboard packaging.
"We want to offer environmentally friendly alternatives that minimize waste in line with our mission to accelerate the world towards a zero-waste future," Pihajoki explained.
The printing technology is efficient in energy as well as in the use of colors and water, Walki noted.
The Pietarsaari plant produces wrapping materials for the paper industry, barrier lining, covering material for biomass and selected technical products. The plant has a production capacity of 100,000 tonnes per year and 195 employees.
Walki is an international group organized in three business areas: Consumer Packaging, Industrial Packaging, and Engineered Materials. The Group has operations in twelve different countries, both in Europe and Asia. In 2021, the Group's annual turnover was approx. 500 million euros employing around 1400 people. To learn more, visit: www.walki.com.
SOURCE: Walki Group Oy