Sappi Stockstadt Mill in Germany Transitioning from Coal to Biomass and Natural Gas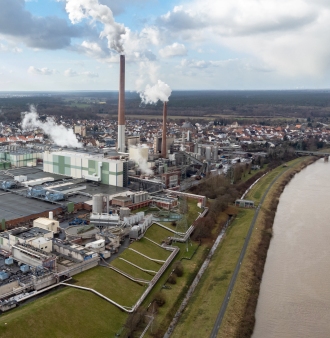 At the Stockstadt site, the current coal-fired Boiler 9 will be decommissioned and the mill will be operated with only renewable biomass and natural gas in the future.
May 11, 2022 - Sappi announced that it will be abandoning the use of coal at its Stockstadt pulp and paper mill in Bavaria, Germany. To this end, the current coal-fired Boiler 9 will be decommissioned and the mill will be operated using only renewable biomass and natural gas.
In a press release, Sappi said, "This fits seamlessly into Sappi's large-scale projects to reduce CO2 emissions as part of its ambitious decarbonisation roadmap: for instance, with the fuel boiler modernisation at the Gratkorn site in Austria; fuel conversion to biomass at the Kirkniemi site in Finland; and the installation of a new electric boiler at the Maastricht plant in the Netherlands."
Sappi's decarbonisation targets for 2025 include reducing emissions of specific greenhouse gases (Scope 1 and 2) by 25 percent and increasing the share of renewable energy in Europe to 50 percent (compared to 2019).
Stockstadt Mill
The Stockstadt mill has the capacity to produce 145,000 tons per year of bleached chemical pulp for our own consumption and kraft pulp, and 220,000 tons per year of coated and uncoated woodfree paper.
The exiting of coal is expected to reduce annual emissions in Stockstadt by at least 100,000 tonnes of CO2. This corresponds to roughly one third of previous fossil emissions.
In addition, the project is expected to have numerous positive benefits for the environment in terms of less traffic, noise and waste.
"The project marks a significant milestone in equipping the Stockstadt mill for the future," said Christian Dietershagen, Managing Director and Plant Manager at Sappi Stockstadt GmbH.
"In addition to the positive climate impacts, we anticipate that roughly 700 truck journeys for waste disposal per year will be dispensed with, and that noise emissions will be reduced due to the elimination of various sources, e.g. the ramping up and down of the coal-fired steam boiler, operation of the coal mills, and the absence of truck shuttle traffic," Dietershagen added.
Additionally, the annual energy consumption is expected to be lowered from the current level by some 5 to 7 percent.
Sappi said the transition from coal to biomass and natural gas at the mill began towards the end of 2021 and completion of the project is expected by September 2022, and that the exit from the use of coal will be nearly complete across Sappi Europe's facilities.
Headquartered in Brussels, Belgium, Sappi Europe is a leading European producer of coated fine paper used in premium magazines, catalogues, books and high-end print advertising. To learn more, visit: www.sappi.com.
SOURCE: Sappi Europe