LD Celulose Ramping-Up Production at New Dissolving Pulp Mill in Brazil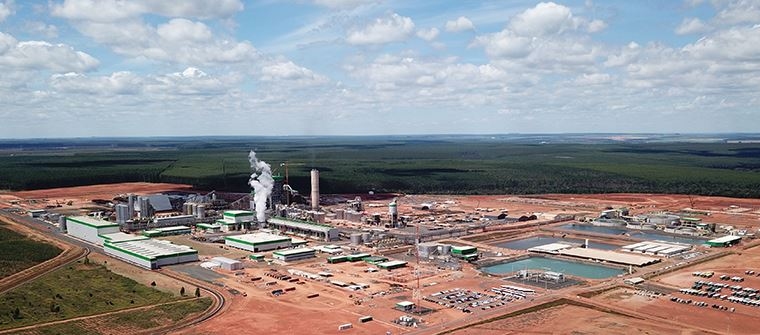 April 25, 2022 - LD Celulose S.A, a joint venture between the Austrian company Lenzing and the Brazilian company Dexco, invested about USD 1.3 billion in a 500,000 tonne/year dissolving wood pulp mill in the Triângulo Mineiro region in Brazil. Valmet delivered the key process islands and integrated automation solutions for the mill. The equipment operations and the production ramp-up in the new mill have now successfully started.
Valmet delivered the project with extended scope of supply. Detailed engineering for the project was started in the beginning of 2020 and the installation works at the site in the beginning of 2021.
"Our new mill brings a positive socioeconomic impact throughout the region," said Luís Künzel, CEO of LD Celulose. "The dissolving pulp is a key raw material for manufacturing Lenzing's wood-based textile and specialty fibers.
"This mill is among the most productive and energy-efficient mills in the world. We have adopted the most advanced technologies in the mill, not only in the sustainable production process, but also in the solutions that seek to reduce emissions to the environment. We are very happy that despite the outside challenges we have been able to follow our schedule," Künzel explained.
Bertel Karlstedt, Business Line President, Pulp and Energy for Valmet, commented, "This project is an excellent reference of dissolving pulp technology and our green field pulp mill delivery capability. Almost everything in this project was implemented during the global Covid-19 pandemic. We have been working remotely in engineering, project management and even in factory acceptance test for the automation system. This has required a lot of trust and communications between the Valmet and LD Celulose teams and special attention to planning and scheduling. I'm pleased to see how our teams have reached this important milestone of starting the production at the site."
Valmet's complete delivery included a fiber line, a pulp drying and baling line, an evaporation plant, ash crystallization, a white liquor plant, mill-wide automation system, analyzers and operator training simulators for all process areas.
Valmet noted that its Operator Training Simulator (OTS) will be used in all process islands, from the beginning to the end of production, with a total of 14 process areas. An innovative fact of the project is that its wood handling area is the first in Brazil to use OTS technology. Another highlight is the presence of simulators for the areas of water treatment, water treatment for boilers, effluent treatment and turbines, commonly little explored in the OTS.
Valmet is a leading global developer and supplier of process technologies, automation and services for the pulp, paper and energy industries. The company's technology offering includes pulp mills, tissue, board and paper production lines, as well as power plants for bioenergy production. To learn more, visit: www.valmet.com.
SOURCE: Valmet