Norske Skog Names Paperboard as Containerboard Agent in Poland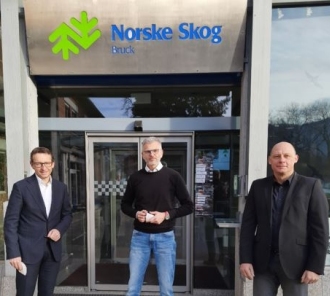 From left: Michael Schramboeck, Sales-Logistic Manager at Bruck; Tomasz Bachniak, Vice President at Paperboard; and Thomas Moser, Product Manager at Bruck.
Jan. 10, 2022 - Norske Skog has named Warsaw-based Paperboard as their exclusive representative for sales of containerboard in the fast-growing Polish market.
Founded in 2016, Paperboard is an independent paper and board mill agent, representing numerous mills in Poland. Although a relatively young company, the Paperboard team has decades of experience and a large network in the Polish paper and packaging industry.
"Poland will be an important market for Norske Skog, and we are very pleased to have Paperboard on our side there," said Michael Schramböck, Marketing Director of Norske Skog Bruck. "They know our future customers and their needs, and that is a big plus."
Norske Skog will enter the European packaging market at the end of 2022 upon the completion of a machine conversion project at Norske Skog Bruck in Austria. PM3 is being converted from the production of newsprint to recycled containerboard that will be marketed under the brand name Strato. The machine will have the capacity to produce 210,000 tonnes per year.
In addition, Norske Skog Golbey in France is in the process of converting PM1 from the production of newsprint to recycled containerboard grades. The machine will have the capacity to produce 550,000 tons per year and is expected to start-up in the fourth quarter of 2023.
Norske Skog said both mills will produce Strato Liner3 and Strato Fluting.
Tomasz Bachniak, VP of Paperboard, explained, "The Polish packaging market is developing fast; growing fast. There are a lot of opportunities for a new, independent supplier like Norske Skog. At Paperboard we are very excited about introducing the company, the conversion projects, and the products. I know the organization from within, their dedication to their products and customers. I'm sure that together we'll be able to create a solid position for Norske Skog in this exciting market."
Norske Skog is a leading producer of publication paper with market positions in Europe and Australasia. The Norske Skog group operates four mills in Europe, of which two will produce recycled containerboard following planned conversion projects. In addition, the group operates one publication paper mill, a converting grade mill and one wood pellets facility in Australasia. To learn more, visit: www.norskeskog.com
SOURCE: Norske Skog