Clearwater Paper Launches Nuvo with BioPBS Compostable Cup Stock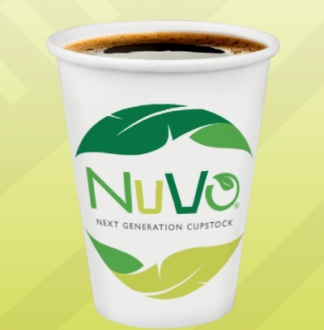 Jan. 10, 2022 - Clearwater Paper has introduced NuVo® with BioPBS™, a sustainable cup stock that provides foodservice operators with a compostable alternative to hot cups coated with low-density polyethylene.
According to Clearwater Paper, NuVo with BioPBS is the first cup stock to combine a compostable barrier, 35% post-consumer fiber, Forest Stewardship Council chain-of-custody certification (FSC-C008402), and a high-definition print surface.
"When we launched the NuVo brand in 2019, we made a promise to continually innovate to maximize product differentiation and sustainability' said Steve Bowden, senior vice president and general manager of the pulp and paperboard division. "We are pleased to continue delivering on that commitment by introducing NuVo with BioPBS, a next-generation cup stock that we believe will allow our customers to be at the forefront of growing trends in sustainability."
About BioPBS
BioPBS™ is supplied to Clearwater Paper by Mitsubishi Chemical Corporation and PTTMCC Biochem Company Limited, a 50-50 joint venture between MCC and PTT Global Chemical Public Company Limited.
Clearwater Paper (NYSE: CLW) is a premier supplier of private brand tissue to major retailers, including grocery, drug, mass merchants, and discount stores. In addition, the company produces bleached paperboard used by printers and packaging converters, and offers services that include custom sheeting, slitting, and cutting. To learn more, visit: www.clearwaterpaper.com.
SOURCE: Clearwater Paper Corporation