Dunn Paper Appoints Brent Earnshaw as CEO; Promotes Wade Kemnitz to President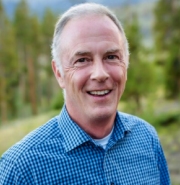 Brent Earnshaw
Dec. 20, 2021 - Dunn Paper today announced the appointments of Founder Brent Earnshaw as Chief Executive Officer and promotion of Wade Kemnitz to President of the company.
With a Ph.D. in Paper Science, Earnshaw has extensive experience in the paper industry and founded Dunn Paper in 2003. Earnshaw served as the company's CEO from inception to 2019, transitioning to Vice Chairman of the Board where he remained active in providing strategic oversight and driving new product innovation.
"Being with Dunn Paper for almost 19 years now I've seen firsthand the innovation and resilience of this company," Earnshaw said. "I'm excited to step back into this role with a great team of leaders."
Wade Kemnitz
Dunn Paper also announced that Wade Kemnitz has been promoted to President of the company. Kemnitz has served as Chief Operating Officer for Dunn Paper since January of 2016.
Dunn Paper is owned by Arbor Investments, a specialized private equity firm that focuses exclusively on acquiring premier companies in food, beverage and related industries. Arbor acquired Dunn Paper in 2016 alongside founder Earnshaw.
Dunn Paper, with 7 paper mills throughout the USA and Canada, is a leading manufacturer and supplier of high performance, advanced paper and tissue for use in food, medical, and specialty markets. The company works with converters to create innovative sustainable paper products that have thousands of possible applications. To learn more, visit: www.dunnpaper.com.
SOURCE: Dunn Paper Company