Kruger Products to Double Production of Its Future Tissue Machine in Sherbrooke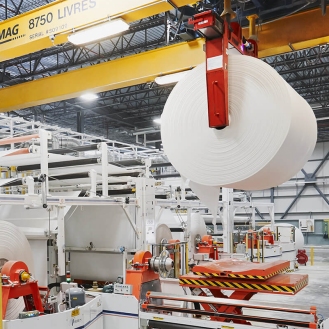 Kruger Products will invest an additional $111.5 million in its previously announced expansion project in Sherbrooke that includes installation of a double-wide a LDC (light dry crepe)tissue machine.
Dec. 17, 2021 - Kruger Products today announced that it will double the size and production of its future LDC tissue machine in the Brompton borough of Sherbrooke, Quebec, Canada. The machine is slated to be commissioned in 2024.
After revealing on February 26, 2021, a $240-million expansion project to install the machine and add two converting lines, the company announced that it is increasing its investment by $111.5 million, for a total of $351.5 million. The double-wide machine, which features LDC (light dry crepe) technology, will be able to produce at least 60,000 metric tonnes of premium-quality tissue products annually for the Canadian and U.S. markets.
Kruger Products' new Sherbrooke tissue plant, which has led to the creation of 180 jobs, was successfully commissioned on time and on budget earlier this year. When combined with the $600 million invested in this state-of-the-art plant and artificial intelligence, investment in the Brompton Borough totals nearly $1 billion and will result in the creation of 321 jobs in all.
Kruger Products' production site in Sherbrooke will form a major premium-quality tissue-product manufacturing hub in North America.
"The additional production capacity will enable us to drive our company's growth and continue to supply our customers across North America with high quality tissue products such as Cashmere®, SpongeTowels®, Scotties® and Purex® in Canada, and White Cloud® in the United States," explained Dino Bianco, CEO of Kruger Products.
Earlier this year, the Government of Québec, a partner in the project, provided a $165-million loan through Investissement Québec. The additional investment of $111.5 million announced today, however, is entirely funded by Kruger Products and a bank syndicate.
Pierre Fitzgibbon, Minister of Economy and Innovation and Minister Responsible for Regional Economic Development, commented, "Quebec's pulp and paper industry needs to renew and modernize itself. Kruger Products' acquisition of this new machine is a great example of technological innovation, which will allow it to double its production capacity. It's the kind of initiative that will boost the industry's performance and growth."
About Kruger Products L.P. (KPLP)
KPLP is Canada's leading manufacturer of quality tissue products for household, industrial and commercial use. The company has approximately 2,700 employees and operates nine FSC® COC-certified (FSC® C-104904) production facilities in North America. To learn more, visit: www.krugerproducts.ca.
Founded in 1904, Kruger Inc. is a major producer of tissue products; 100% recycled containerboard products; corrugated packaging; publication papers; specialty papers; renewable energy; cellulosic biomaterials; and wines and spirits. To learn more, visit: www.kruger.com.
SOURCE: Kruger Inc.