ANDRITZ to Convert Paper Machine from Newsprint to Packaging Paper Production for Volga Pulp and Paper Mill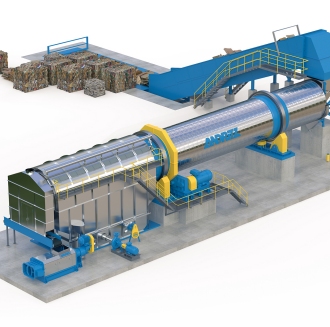 ANDRITZ FibreFlow Drum pulper.
Sept. 22, 2021 - ANDRITZ has received an order from Volga Pulp and Paper Mill in Balakhna, Nizhnij Novgorod Region, Russia, to supply a new OCC line as well as to convert its PM 6, a newsprint paper machine, to a packaging paper machine.
After the conversion, PM 6 will produce packaging paper from a unique mix of OCC and TMP fibers. Volga Pulp and Paper Mill is currently producing packaging paper from 100% TMP fibers.
The rebuilt PM 6 will have an annual production capacity of 140,000 tons and a design speed of up to 720 m/min, producing lightweight fluting and testliner in the range of 65-120 gsm.
The rebuild includes the paper machine approach flow system, the forming, press and dryer sections, including the steam and condensate system, a new PrimeFilm film press, some of the paper machine drives, as well as the complete tail threading system and the slitter rewinder.
Start-up is scheduled for the spring of 2023.
The new OCC line will process local OCC (Old Corrugated Containers) and feature a capacity of 400 bdmt/d. ANDRITZ will supply all of the main equipment, from bale receiving to the dump chest, including a FibreFlow Drum pulper (type FFD350EE), which is a complete pulping system in one unit.
The OCC line will be delivered with an extended scope, including fractionation, screening, cleaning, and pumps as well as automation and electrification equipment with a DCS from ANDRITZ.
The ANDRITZ scope of supply includes supervision of the mechanical installation work, commissioning, and start-up assistance.
ANDRITZ Pulp & Paper provides equipment, systems, complete plants and services for the production of all types of pulp, paper, board and tissue. To learn more, visit: www.andritz.com
SOURCE: ANDRITZ