ABB to Supply Södra with Industrial Digitalization Technology Across Its Mills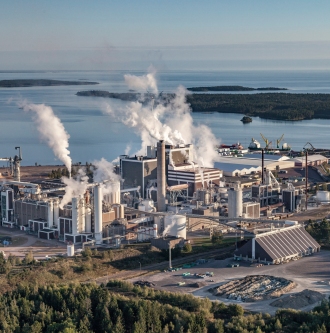 Södra, Sweden's largest forest owners association and an international forest industry group, appoints ABB to optimize performance, efficiency and sustainability across its mills.
Sept. 9, 2021 - ABB and Södra have entered a long-term, strategic partnership to co-develop a roadmap to drive new levels of efficiency, engagement and digitalization across Södra's enterprise to ultimately define the next generation mill.
The contract, effective from September 2021, is designed as a continuous engagement model, with ongoing reviews of short and long-term goals to ensure the digitalization of Södra's operations. Södra's intent is to build its digital capabilities and increase efficiency, sustainability and circular resource utilization throughout the value chain.
"ABB's collaborative approach, global technology leadership and digital expertise was key to our decision to choose them as our partner," said Magnus Björkman, President of Södra Cell Business Area. "Their foresight of what we want to achieve through this digitalization project will bring new levels of efficiency in our operations and create an even more desirable workplace of continuous learning for this and the next generation of workers."
The scope will be jointly defined using the full industrial digitalization technology stack based on the foundation of ABB's Ability™ portfolio, including:
ABB's 800xA Distributed Control System (DCS), an integration platform with unparalleled connectivity to enterprise and plant systems providing a collaborative environment where real-time decision making is a reality.
ABB's Pulp and Paper digital solutions which supply advanced software applications that enable modern mills to maximize visibility, reliability, productivity and energy efficiency.
ABB Ability™ Genix Industrial Analytics and AI Suite, a platform with the ability to collate and contextualize data from diverse sources.
"Digitalization is an invaluable enabler for the growth and advancement of our industry, and we are committed to the transformation of traditional mills into the optimal mill of the future," said Björn Jonsson, Hub Manager, Process Industries at ABB. "Our vision is for operators and the industry to benefit from fully-automated, optimized and connected mill settings, with digital solutions and real-time insights allowing them to reach the highest quality standards."
ABB is working across more than 50 countries to provide its comprehensive portfolio of integrated digital solutions, automation and electrification systems, industry-focused products and services to help customers optimize all phases of the papermaking process. The company works across packaging, paper, tissue and pulp disciplines to help drive availability, performance, cost and quality improvements.
ABB is a pioneering technology leader with a comprehensive offering for digital industries with four customer-focused businesses: Electrification, Industrial Automation, Motion, and Robotics & Discrete Automation, supported by its common ABB Ability™ digital platform. To learn more, visit: wwww.abb.com.
SOURCE: ABB