Ilim's Koryazhma Mill Receives an Integrated Environmental Permit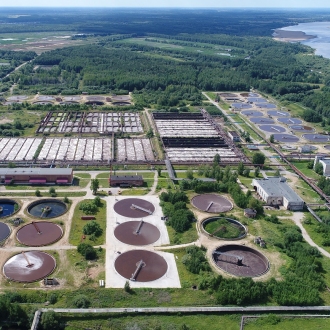 Ilim's Koryazhma Mill received an integrated environmental permit confirming its compliance with high environmental safety standards
Sept. 8, 2021 - Over the past 10 years, Ilim Group spent about RUB 12 billion to implement best available technologies (BAT) and environmental initiatives at the Koryazhma Mill site in Russia. The funding was used to follow through with the projects aimed to ensure Mill compliance with the global environmental standards, including construction of a new evaporator station with a condensate treatment and sulfides handling system and upgrade of the biological wastewater treatment facilities, caustic room and lime kilns equipment, recovery boilers, etc.
Ilim Group is proactive in implementing digital solutions in the area of health, safety and environment protection. In particular, it has implemented an automatic system for EHS management — SAP EHSM.
"Running its business, Ilim Group is guided by the principle of sustainable development and, primarily, the balance between available natural resources, production capacities, and the market demand, said Ksenia Sosnina, CEO of Ilim Group. "The crucial components of our ESG agenda include projects to implement BAT and social initiatives aimed to improve the quality of life for local communities.
"Annually, the Company spends at least one third of its investments on environmental and social projects. We are developing our carbon strategy with a focus on carbon footprint reduction, ramp-up of reforestation, and implementation of digital technologies for end-to-end monitoring of forest operations as major priorities," Sosnina added.
Through 2026, Ilim Group intends to invest another RUB 4.2 billion to ensure environmental upgrade of the Koryazhma Mill. To that end, one of the key goals is completing construction of the new woodroom, which will allow to substantially cut the Mill's water consumption. The company also plans to upgrade the Mill's wastewater treatment facilities in line with best global practices and BAT.
Ilim Group, with headquarters in St. Petersburg, Russia, operates three large pulp and paper mills and two modern corrugated box plants. The business assets are located in Koryazhma (Arkhangelsk Oblast), Bratsk and Ust-Ilimsk (Irkutsk Oblast), Kommunar (Leningrad Oblast), and Dmitrov (Moscow Oblast). To learn more, visit: www.ilimgroup.ru.
SOURCE: Ilim Group