Neenah Introduces RECYCOTAPE; 100% Recyclable Packaging Tape Backing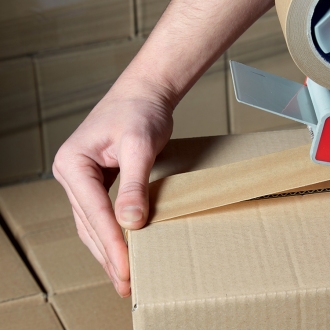 Aug. 23, 2021 - Neenah, Inc. has added the first of its kind, environmentally forward RECYCOTAPE™ tape backing to its sustainable product offering. Consumers can now recycle shipping or packaging boxes sealed with RECYCOTAPE, as this unique packaging tape backing will break down along with the box during the recycling process.
RECYCOTAPE is uniquely made from FSC certified, sustainably sourced fibers that easily re-pulp and allow coating removal during the recycling process. As a result, these base papers can provide usable fiber to reprocess into new paper.
"There is a growing interest in the market for an environmentally friendly alternative to traditional packaging tapes and a viable replacement for plastic-based, non-recyclable tapes used to seal corrugated boxes. RECYCOTAPE is both," says Chris Boothby, Tape Product Manager for Neenah. "We're excited to now meet consumer demand with a state-of-the-art tape backing product that performs beautifully without compromising the environment."
With manufacturing facilities across North America, Europe and Asia, Neenah (NYSE: NP) is a leading global manufacturer of specialty materials serving customers across six continents, with headquarters in Alpharetta, Georgia. To learn more, visit: www.neenah.com.
SOURCE: Neenah, Inc.