Pratt to Build New $400 Million Recycled Containerboard Mill in Kentucky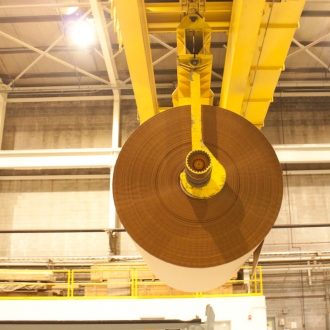 Pratt's initial investment will support construction of a state-of-the-art, 450,000-square-foot recycled containerboard mill. Construction is expected to begin in March 2022.
July 29, 2021 - Gov. Andy Beshear and Lt. Gov. Jacqueline Coleman joined executives from Pratt Paper LLC and local officials in Henderson to announce the company's new $400 million paper mill, a project committed to creating 321 well-paying jobs over the next five years.
Pratt's investment is the largest investment in this region of Kentucky in more than 25 years, stands as the largest in the state in nearly two years and is the third largest job-creation announcement of 2021.
"This is a significant investment in Kentucky and one that will make Pratt Paper a major employer in Henderson County for years to come," Gov. Beshear said. "Pratt is a company with a vision for the future, and I could not be more proud that future will include Kentucky. We're not just rebuilding our economy in the commonwealth, but surging ahead to levels we have not seen before. This is happening because great companies like Pratt Paper and strong leaders like Anthony Pratt can see where Kentucky is headed and know our skilled workforce is the partner they need to succeed."
Pratt plans to build two facilities totaling 1.15 million square feet along Kentucky Highway 425 in Henderson County. The company's initial investment will support construction of a state-of-the-art, 450,000-square-foot paper mill that will manufacture 100% recycled products. Company leaders expect additional future investment to construct a 700,000-square-foot corrugator plant to produce corrugated sheet and boxes, including pizza boxes and packaging for major distributors and big box stores, using paper sourced from the new paper mill.
Pratt leadership anticipates construction of the roughly 120-job paper mill will begin in March 2022, with completion slated for fall 2023. The corrugator facility is expected to be completed by the end of 2026 and employ approximately 200 people once fully operational. Company leaders also expect the project to contribute to approximately 700 construction jobs over the coming years.
The new location builds on Pratt's existing presence in the commonwealth, which includes a Pratt Display manufacturing plant established in Hebron in 2011 that employs over 200 Kentuckians.
Anthony Pratt, executive chairman of Pratt Industries, said, "The paper mill will be the world's most advanced, environmentally friendly 100% recycled paper mill. This $400 million green manufacturing investment began in Gov. Beshear's office in April 2021. He was so welcoming and enthusiastic about the opportunity, and the speed with which he has moved - and the enthusiasm and professionalism of the Kentucky team - really encouraged us to make this investment in American green infrastructure. It is the single biggest investment our company has ever made and will create 1,000 jobs, including well-paying, American, green-collar manufacturing and construction jobs.
"We see further investment potential in this dynamic state, and Gov. Beshear's leadership has made Kentucky a great place to invest in. I believe in regional manufacturing. It's the heart and soul of America and there is no better place than Kentucky," Mr. Pratt added.
A division of Conyers, Georgia-based Pratt Industries Inc., Pratt Paper produces lightweight, high-strength containerboard and corrugated board sourced from 100% recycled products. Currently, the company operates paper mills in Georgia, Indiana, Louisiana, New York and Ohio. Established more than 30 years ago, Pratt Industries employs more than 10,000 people in nearly 30 states. Pratt Industries is a sister company to Australia-based Visy, which was founded in 1948 and employs around 7,000 people in the Australasia region.
Pratt's new operation will support Kentucky's thriving logistics and distribution industry, which employs nearly 80,000 people at 590 facilities statewide. Due to online ordering throughout the pandemic, warehouses and shippers saw surging demand and expansion opportunities. In the past 12 months, distribution and logistics companies committed to creating nearly 2,000 full-time, Kentucky-resident jobs over the coming years with 34 facility expansions and new-location projects statewide. Those projects include nearly $285 million in private-sector investment in the commonwealth.
SOURCE: Commonwealth of Kentucky