Smurfit Kappa to Acquire Recycled Containerboard Mill, Verzuolo, for EUR 360 Million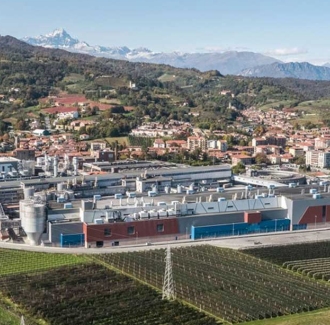 Verzuolo mill in Northern Italy, which is owned by the Burgo Group, has the capacity to produce 600,000 tpy of recycled containerboard on its recently upgraded paper machine, PM9.
July 28, 2021 - Smurfit Kappa Group today announced an agreement whereby it will acquire Verzuolo, a containerboard business in Northern Italy, for a cash consideration of EUR 360 million. The cash consideration will be funded from the Group's existing resources.
The Verzuolo mill, owned by the Burgo Group, is situated close to the port of Savona in the northwest of Italy. The mill's PM9 paper machine was newly constructed in 2002 and converted into a 600,000 tonne capacity recycled containerboard machine in 2019.
Verzuolo is highly complementary to SKG's existing business and is strategically positioned to serve both the Southern European region and other markets ensuring we continue to provide the best service to our corrugated customers. The acquisition will deliver significant synergistic benefits including technical and production optimisation, and increased containerboard integration within the Group.
"We welcome the highly experienced Verzuolo team to the Smurfit Kappa Group as we continue to strengthen the world's leading paper-based packaging group," said Tony Smurfit, CEO of Smurfit Kappa Group. "Consistent with our multi-stakeholder approach, we believe that this acquisition represents another positive step for the Group, our customers and all shareholders. SKG has a proven ability to identify, acquire, integrate and optimize complementary businesses."
Smurfit Kappa Europe CEO, Saverio Mayer, added, "SK Europe is delighted to announce our agreement to acquire Verzuolo. It is a business that we had identified and have admired for some time. The acquisition demonstrates our commitment to this important market for the Group and provides additional security of supply for our customer base. It strengthens the Group's unique integrated operating model and is highly complementary to the significant investments we are making in our corrugated facilities."
Smurfit Kappa expects to complete the acquisition during the fourth quarter of 2021, subject to customary closing conditions including regulatory approval.
Based in Dublin, Ireland, Smurfit Kappa is a leading producer of paper-based packaging with around 45,000 employees across 33 countries. To learn more, visit: www.smurfitkappa.com.
SOURCE: Smurfit Kappa plc