Metsä Board Investing EUR 210 Million to Increase Folding Boxboard Capacity at Husum Mill by 200,000 TPY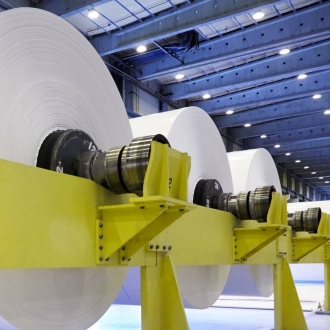 Currently, the Husum mill's folding boxboard capacity, which is produced on paperboard machine BM1, is 400,000 tpy. The investment will boost BM1's capacity to 600,000 tpy.
July 27, 2021 - Metsä Board is investing EUR 210 million to increase folding boxboard capacity at its Husum mill in Sweden in response to growing demand for sustainably produced packaging materials that support the circular economy.
Metsä Board said that the Husum mill's folding boxboard capacity will increase by 200,000 tonnes per year (tpy) to 600,000 tpy. Currently, the mill's folding boxboard capacity (produced on paperboard machine BM1) is 400,000 tpy. The additional capacity will enter the market during 2024-2025.
The EUR 2010 million will be allocated to the capacity project from 2021 - 2024 — mainly in 2022-2023. The Husum port concept will be examined separately, taking into account the growing logistics volumes of the entire integrated mill and the necessary potential investments will be decided later.
Preparatory work for construction will begin in October 2021 in connection with the planned annual maintenance shutdown of the Husum mill. The ramp-up of additional capacity is expected to start in autumn 2023 and full production capacity is expected to be reached by the end of 2025.
The investment will increase Metsä Board's annual sales by approximately EUR 200 million. In addition, the investment is estimated to have a positive impact of approximately EUR 50 million on the company's annual comparable EBITDA. Sales growth and EBITDA improvement are expected to be achieved in full in 2026.
Metsä Board's operating result for July-September 2021 will include an impairment loss of approximately EUR 5 million related to the paperboard machine BM1, and it will be reported as an item affecting comparability.
Metsä Board said the additional folding boxboard capacity will be directed mainly to the North American and European markets, where the demand growth for Metsä Board's premium lightweight paperboards is expected to continue. Metsä Board's folding boxboard is used, for example, in food, pharmaceutical and cosmetics packaging as well as in food service packaging.
Mika Joukio, CEO of Metsä Board, explained, "This is a significant investment that will bring to market the additional capacity that customers want. Husum is a competitive integrate and the ongoing renewal of the pulp mill will further improve the mill's production efficiency and environmental performance. It provides an excellent platform for increasing paperboard production capacity in a sustainable way and utilizing the strengths of northern fresh fibre."
Metsä Board is a leading European producer of premium fresh fibre paperboards with a focus on lightweight and high-quality folding boxboards, food service boards and white kraftliners. To learn more, visit: www.metsaboard.com.
SOURCE: Metsä Board
Read a related story on PaperAge.com: Metsä Board Begins Pre-engineering for Paperboard Capacity Expansion at Husum Mill - Jan. 22, 2021.