Voith to Convert PM 1 at Norske Skog's Golbey Mill to Production of Containerboard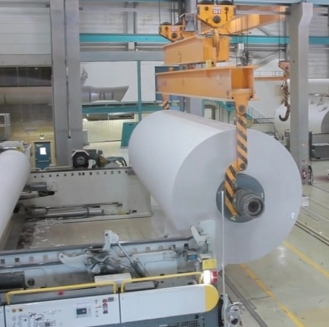 Norske Skog is investing about 250 million euros in the Golbey PM 1 conversion project, which will enable PM 1 to produce 550,000 tons per year of containerboard.
July 13, 2021 - Voith announced that it has been commissioned by Norske Skog to convert PM1 at Norske Skog's Golbey mill in France from the production of newsprint to recycled containerboard grades.
In addition to the extensive rebuild of the PM 1, Voith will supply a new BlueLine stock preparation system and efficiency-enhancing services.
According to Voith, the BlueLine stock preparation system will ensure stable stock quality with optimized fiber yield and minimal energy consumption. The core component of BlueLine is the IntensaDrum pulper drum, including a sophisticated feeding system, which will process up to 2,100 tons of recovered paper daily.
The scope of supply also includes the entire reject handling system, which will process up to 100 tons of rejects daily.
"The order confirms our very good partnership," said Martin Schmid, Vice President Projects Sales at Voith Paper. "We are delighted that Norske Skog has chosen our state-of-the-art technological solutions. As a full-line supplier, Voith provides the customer with a system that offers the highest productivity while reducing energy and resource consumption, thus aligning production optimally for the future market."
Norske Skog is investing about 250 million euros in the Golbey PM 1 conversion project. Upon completion of the machine rebuild, PM 1 will produce 550,000 tons of containerboard per year with a wire width of 9,300 mm. The focus is on lightweight packaging papers between 70 and 135 g/m2.
Commissioning is scheduled for the fourth quarter of 2023.
Voith Paper, part of the Voith Group, is the full-line supplier to the paper industry, providing a wide range of technologies, services, components and products, and offers paper manufacturers solutions from a single source. To learn more, visit: www.voith.com.
SOURCE: Voith Group