ND Paper Names Tom Pazdera as VP and GM of Rumford Division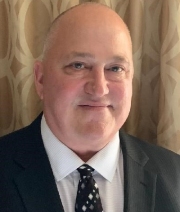 Tom Pazdera
June 7, 2021 - ND Paper today announced that Tom Pazdera has been named the new Vice President and General Manager of ND Paper's Rumford Division. A pulp, packaging and paper industry veteran, Pazdera brings three decades of experience with internationally recognized companies including International Paper, MeadWestvaco, Boise Paper and, most recently, as President and Unit Head of AV Terrace Bay, in Ontario, Canada, where he oversaw day-to-day operations of an 1,100 tons per day NBSK pulp mill.
"Tom brings incredible knowledge and industry experience that will prove instrumental in helping us create a new era of growth and success at our Rumford Division," said ND Paper CEO Ken Liu. "Because beyond operations and management of our largest facility, Tom will also be critical in helping us execute the continued capital transformation program for the division and the company."
In addition to his background as a project engineer, Pazdera has guided business operations and management teams at several largescale paper manufacturing sites across the country during crucial turning points. "Tom is a proven leader of transformational organizations, because he brings the personable leadership as well as the technical knowledge to advance our operations during a critical time," confirmed Michael LaVerdiere, ND Paper Executive Vice President and COO.
Pazdera is a native of Arkansas, where he graduated from the University of Arkansas with a degree in Civil Engineering.
About the Rumford Mill
Founded as the Oxford Paper Company in 1901, the Rumford Mill has produced some of the most reputable products in the history of the American paper industry. From the USPS's penny post cards to Campbell Soup can labels to paper for the iconic L.L. Bean catalogue, the story of US retail, advertising and commerce has been woven throughout the mill's vast facilities for 120 years.
Most recently, the mill was part of the Catalyst Paper family. ND Paper purchased the mill in 2018, along with three other mills across the US — in Old Town, ME; Fairmont, WV; and Biron, WI — and has been investing in significant capital and market transformations at the mill over the last three years. Looking ahead, the Rumford Division will be expanding its presence in packaging papers, including unbleached kraft papers and lightweight containerboard.
ND Paper is a leading pulp, packaging and paper company with four mills: Rumford and Old Town, Maine, Fairmont, West Virginia, and Biron, Wisconsin. ND Paper also operates a corrugated packaging plant in Sturtevant, Wisconsin. To learn more, visit: us.ndpaper.com.
SOURCE: ND Paper LLC