ND Paper Names Bruce Hogan as VP and GM of Old Town Division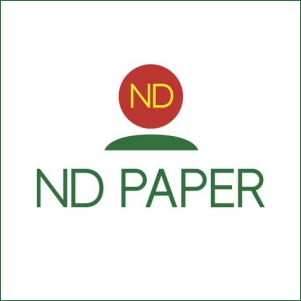 April 14, 2021 - ND Paper announced that Bruce Hogan has been named the new Vice President and General Manager of ND Paper's Old Town Division. A pulp and paper industry veteran, Hogan brings 33 years of experience with internationally recognized companies including International Paper, Mohawk Fine Papers, Essity and Appvion.
"Bruce brings a breadth of knowledge that will be instrumental in helping us usher in a new era of growth and excellence at our historic Old Town Mill," said ND Paper CEO Ken Liu. "Because beyond operations, Bruce will also be critical in helping us execute the continued capital transformation program for the Division."
In addition to his background as a process engineer, Hogan has led operations and management at several largescale paper manufacturing sites across the country. "He has the technical acumen along with the personable leadership skills to advance our operations during a critical time," confirmed Mike LaVerdiere, ND Paper COO and Executive Vice President.
Another reason Hogan is likely excited to be coming to Old Town is that after so many years away, he and his wife are finally coming home. Native Mainers, Bruce graduated from the University of Maine with a degree in mechanical engineering.
"I couldn't be more excited to join ND Paper," Hogan said. "The transformation that Old Town is undergoing - investing in people, new process and better products to serve an ever-evolving marketplace - is a sign of future success. It's one of the things that attracted me to ND Paper. This company is working toward something very special. I jumped at the opportunity."
The outgoing General Manger, Craig Kerschner, has been instrumental in the start-up operations and initiatives at the mill. Kerschner's knowledge and expertise, especially from his experience at Old Town, will be crucial for the company in his new role. After two years as GM, Kerschner has been promoted to Corporate Director of Pulping Technology.
About the Old Town Mill
In October of 2018, ND Paper acquired the then-idled Old Town mill and converted the mill's production from bleached hardwood kraft pulp to unbleached softwood kraft pulp. The mill restarted production in August of 2019.
ND Paper is a wholly-owned subsidiary of Nine Dragons Paper (Holdings) Limited. Headquartered in Oakbrook Terrace, Illinois, ND Paper manufactures various types of high-quality pulp, paper and paper-based packaging materials. To learn more, visit us.ndpaper.com.
SOURCE: ND Paper LLC