Green Bay Packaging Starts Production at Its New Paper Mill in Wisconsin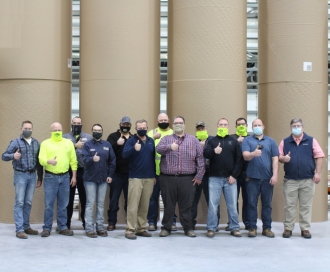 The first reel of testliner rolled off Green Bay Packaging's new PM 4 on March 11, 2021. PM 4 is a 300-inch (7.62 meters) wide Voith XcelLine paper machine with a design speed of 3,940 ft/min.
March 19, 2021 - Green Bay Packaging announced that the first reel of paper was produced at its new paper mill in Green Bay, Wisconsin, on March 11, 2021. The completion of the $500 million project comes two and a half years after breaking ground.
"These are exciting times at Green Bay Packaging as we ramp up production on our new paper machine," said Will Kress, Chairman and CEO of Green Bay Packaging. "This is the single biggest project in our company's history and it certainly would not have been possible without the tireless efforts of our internal people and our many partners and suppliers working together to turn this dream into reality.
Bryan Hollenbach, Executive Vice President of Green Bay Packaging, added, "The team, led by Matt Szymanski, has done an outstanding job bringing this project in on-time. "This complex and intense project was completed on time and will play a significant role in the future of Green Bay Packaging. The entire team did an outstanding job."
According to Voith, the supplier of the new machine (PM 4), the 300-inch (7.62 meters) wide XcelLine paper machine has a design speed of 3,940 ft/min. and produces testliner.
Voith's scope of supply also included an effluent treatment plant, BlueLine stock preparation, WEP, and a VariFlex Performance winder.
On June 12, 2018 Green Bay Packaging officially announced plans to build the $500 million recycled paper mill adjacent to its existing paper mill in Green Bay. The new mill replaces the 71-year old Green Bay Mill on North Quincy Street.
Green Bay Packaging is a family-owned, vertically integrated manufacturing company consisting of corrugated shipping container plants, a folding carton facility, recycled and virgin containerboard mills, pressure-sensitive label roll-stock plants, timberlands, a paper slitting operation, specialty converting operations, and a sawmill facility. To learn more, visit: gbp.com.
SOURCE: Green Bay Packaging Inc.