BillerudKorsnäs' Executive Vice President Commercial Helene Biström to Leave Company During 2021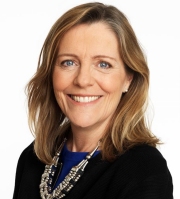 Helene Biström
March 4, 2021 - BillerudKorsnäs announced that Helene Biström, Executive Vice President Commercial, has decided to leave the company at her own request.
BillerudKorsnäs said that it will immediately initiate the recruitment process for a new EVP Commercial and an announcement of her replacement will be done in due course.
"Helene Biström, currently in the role of EVP Commercial, has been a key person in BillerudKorsnäs for several years," said Christoph Michalski, President and CEO of BillerudKorsnäs. "Even though Helene will remain in her position for the time being, I already now want to thank Helene for her efforts and wish her good luck for the future."
BillerudKorsnäs is a leading producer of primary fibre-based packaging materials with customers in over 100 countries. The company has 8 production units in Sweden, Finland and the UK and about 4,500 employees in over 13 countries. To learn more, please visit: www.billerudkorsnas.com.
SOURCE: BillerudKorsnäs