Voith Supplies Republic Paperboard with Innovate Curtain Coater Process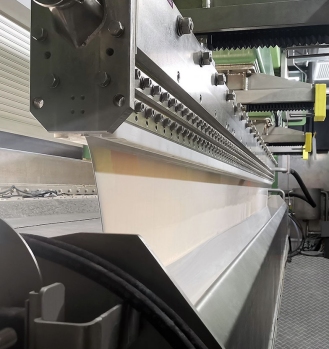 Voith's DynaLayer curtain coater.
Feb. 22, 2021 - Voith announced that Republic Paperboard recently installed and commissioned a new curtain coater system — built by Voith — that will allow Republic to produce coated Gypsum Linerboard for the first time.
To achieve its goal to produce coated Gypsum Linerboard, the mill needed a new DF Coat curtain coater system that could efficiently apply a specialty finish. Voith's solution for Republic is a new innovation that, instead of using expensive white fiber to get the needed color and finish, now uses a fiber base and applies a coating for color and finish.
"The opportunity to expand our business and produce coated Gypsum Linerboard more efficiently is a big win for Republic," said Ray Howard, President, Republic Paperboard. "By partnering with Voith for the development of this new process, we secured the expertise we needed to make it happen."
Coated Gypsum Linerboard is appealing to the construction industry since it can be very costly to get the right color and finish onto wallboard. With the new DF Coat curtain coater process, the mill uses a fiber base while applying color to it.
The effort by Voith and Republic to develop the curtain coating innovation was part of a larger rebuild project at the mill. Voith also supplied a stock preparation upgrade, new dryer cans, the coater system itself, a new reel and a new coater kitchen. Part of the supply was a winder rebuild.
In addition, a special bypass section was supplied that allowed the mill to produce uncoated sheet.
These elements were primarily installed earlier in the spring of 2020, with final coater start-up taking place throughout the summer of 2020, Voith noted.
"This project demonstrates how Voith can really help our customers develop and grow their business," said David Buchanan, President, Voith Paper North America. "We have the knowledge, expertise and capabilities to help their plans come to fruition."
Voith Paper, part of the Voith Group, is the full-line supplier to the paper industry, providing a wide range of technologies, services, components and products, and offers paper manufacturers solutions from a single source. To learn more, visit: www.voith.com.
SOURCE: Voith Group