ABB Supplies Oji Fibre Solutions' Penrose Mill with Winder Safety System in New Zealand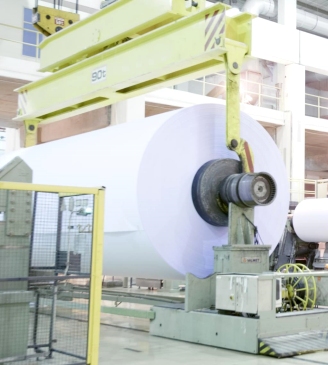 The Penrose Mill's new system designed by ABB features a range of winder safety improvement steps and devices making operations safer, more intelligent and more productive.
Feb. 18, 2021 - ABB has supplied Oji Fibre Solutions' Penrose Mill in Auckland with a specially designed winder safety system — the first of its kind in New Zealand — as well as a winder drive control system and DCS880 drives. With the mill's existing winder equipment installed more than 30 years ago, the upgrade will help Oji Fibre ensure safe and efficient future operations, in line with recently updated safety requirements*.
According to ABB, the new system features a range of winder safety improvement steps and devices including mechanical guarding (perimeter personnel access control via a retractable fence that keeps operators away from the danger zone), electrical controls (power interlocks), hydraulic controls (with redundancy), optical (safety light curtains) and safe speed monitoring. The creation of safety zones allows operation in one zone to continue when another zone is infringed, improving uptime at the mill.
The automation of manual tasks — such as hands-free threading, set change with automatic sheet cut off, automatic gluing or auto-measuring slitters — also reduces the risk of injury and failure by eliminating hands-on tasks. All of these automatic upgrades both increase winder throughput and remove the operator from exposure to potential hazards, ABB explained.
The improved features are all supported by a new operator control panel with safety programmable logic controller (PLC) and new human-machine interface (HMI).
"Our focus was to supply the equipment while simultaneously designing a safety system that would allow Oji Fibre to operate effectively to safely meet its customer requirements," said Shane Archer, Local Division Manager, Process Industries, ABB New Zealand.
"These measures also had to be benchmarked against national and international standards. We are proud to have redesigned and rebuilt Oji Fibre's safety system in line with New Zealand's latest requirements, making operations safer, more intelligent and more productive."
Penrose Mill, which has an annual output of more than 85,000 tons of containerboard (recycled medium liner), uses recycled sources collected by Oji Fibre's Fullcircle recycling service. Finished products are supplied mainly to the New Zealand, Australian and Asian markets.
*The new system complies with the latest ISO13849-1 safety-related parts of control systems requirements.
ABB is a leading global technology company that energizes the transformation of society and industry to achieve a more productive, sustainable future. To learn more, visit: wwww.abb.com.
SOURCE: ABB