Domtar: Manufacturing Byproducts Offer Benefits to Mills, Environment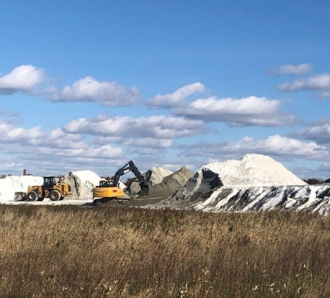 Domtar's Nekoosa mill's leftover lime, which has a high pH, can help neutralize the wastewater at the Rothschild mill before it enters the mill's treatment plant. The two mills are located about 50 miles apart in Wisconsin.
Editor's note: The following article is authored by Domtar and is posted in the Newsroom section of its website.
Feb. 13, 2021 - Turning our manufacturing byproducts into usable products is just one of the ways Domtar works to operate efficiently and responsibly. These efforts reduce costs, but they also can help balance soil chemistry and increase crop yields for local farmers. In addition, reusing byproducts keeps the material out of landfills.
In 2019, we beneficially reused 67 percent of our pulp and paper manufacturing byproducts, compared to an industry average of 46 percent.
"We continually look for ways to make the most of natural resources," says Brian Kozlowski, director of environment and sustainability at Domtar. "When these resources can have a second life — whether in our own manufacturing or in agriculture — we see benefits across the environment."
Take, for example, our use of lime manufacturing byproducts to treat acidic wastewater.
Lime Improves Chemical Balance
One mill's "trash" is another mill's "treasure." Our Nekoosa and Rothschild mills have discovered a mutual benefit to the lime byproduct produced in the process of making pulp.
The two mills, located about 50 miles apart in Wisconsin, use different processes for pulping, one of the earliest stages of papermaking. These processes leave Nekoosa with excess lime residuals and Rothschild with acidic wastewater.
Nekoosa's leftover lime, which has a high pH, can help neutralize the wastewater at Rothschild before it enters the mill's treatment plant.
Environmental engineers Afton Pumper at Nekoosa and Matthew Tlachac at Rothschild put their heads together for a solution that would benefit both sites.
"We were just landfilling much of the lime," Pumper says. "Local farmers take some of it, but we still were using the landfill for the excess."
And Rothschild, which had been using a lime byproduct from a different manufacturer to neutralize its wastewater, was losing its source of lime.
The idea to collaborate wasn't new to either mill. "These two mills had done this many years ago, but for a variety of reasons that had stopped," Tlachac says. "We're really dusting off an old idea and finding that it works."
Teams at the two mills worked out the details in the summer to begin trials using lime from Nekoosa to treat the wastewater at Rothschild.
"It's a win-win," says Kozlowski. "For Rothschild, this reduces the cost of buying lime from an outside source. For Nekoosa, it reduces waste going into the landfill. Every effort, large or small, contributes to our efficiency and good stewardship of these resources."
Domtar is a leading provider of a wide variety of fiber-based products including communication, specialty and packaging papers, market pulp and absorbent hygiene products. To learn more, visit: www.domtar.com.
SOURCE: Domtar Corporation