Paper Excellence Eyes Restart of Prince Albert Pulp Mill after $600 Million in Investments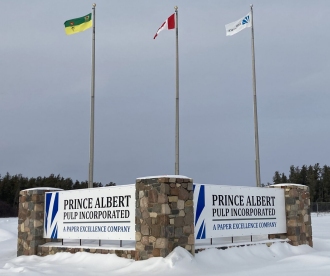 Upon restart, the Prince Albert pulp mill in Saskatchewan, Canada, has an annual capacity of 340,000 tonnes of Northern Bleached Softwood Kraft (NBSK) pulp.
Feb. 8, 2021 - Paper Excellence has recently invested more than $600,000 in engineering and consulting work focused on restarting the Prince Albert pulp mill in Saskatchewan, Canada. Paper Excellence originally purchased the Prince Albert pulp mill in 2011. It now plans to restart the facility as soon as possible once the current non-compete agreement with the former owner expires in March 2021.
"We plan to replace the entire fibre line from the digester to the last bleaching stage. This will replace the heart of the mill and let us take full advantage of the existing recovery boiler which is one of the most modern in Canada," explains Carlo Dal Monte, Vice President, Energy & Business Development. "While this is an expensive strategy, it will simplify construction and minimize commissioning risks.
"Once we are up and running, we will also realize a significant improvement in product quality, operating costs and environmental performance compared to the mill that was shut down in 2006," he said.
Currently, Paper Excellence is carrying out engineering work for the new equipment and completing a detailed evaluation of the existing equipment that will be refurbished. Also, in mid-January, Paper Excellence installed new signs at the mill entrance to signal its efforts to restart the mill.
In addition to the work taking place on site, Paper Excellence is meeting with representatives of the Saskatchewan government and local Indigenous groups to discuss shared funding, project timelines and related investment opportunities.
Paper Excellence looks forward to the day when the site can employee 200 people creating over $300 million per year in economic benefits for Prince Albert and all of Saskatchewan.
About Prince Albert Pulp Mill
Prince Albert Pulp Inc. is one of eight Canadian pulp mills owned by Paper Excellence. The mill is located in Prince Albert, Saskatchewan. Upon restart, the mill has an annual capacity of 340,000 tonnes of Northern Bleached Softwood Kraft (NBSK) pulp.
Mill History Timeline
1968 - Prince Albert mill opened in 1968 as a softwood kraft pulp mill.
1986 - Mill was purchased by Weyerhaeuser, a paper machine was built and the mill produced both pulp and paper.
2006 - Mill was permanently closed by Weyerhaeuser and purchased by Domtar. Domtar only produced NBSK pulp.
2011 - Mill was purchased by Paper Excellence with the intent of converting the Prince Albert mill to produce dissolving pulp. The purchase agreement included a 10-year non-compete clause for paper grade pulp.
2012 - Paper Excellence completed detailed process engineering and equipment studies focused on converting the mill to produce dissolving pulp.
2014 - China settled on a duty level of 23.7 per cent for new dissolving pulp production originating from Canada which negated the business case for making dissolving pulp at Prince Albert.
Paper Excellence, headquartered in British Columbia, is a diversified manufacturer of pulp and specialty, printing, writing, and packaging papers that owns 10 facilities in Canada producing over 3.0 million tonnes annually. To learn more, visit: www.paperexcellence.com.
SOURCE: Paper Excellence