Georgia-Pacific Acquires HP PageWide Corrugated Press to Expand Hummingbird Digital Printing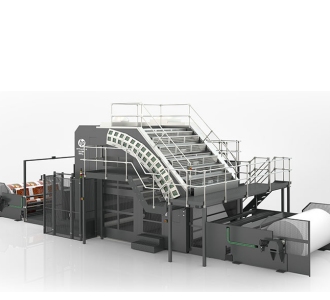 GP's new HP PageWide T1190 Press (110-inch wide web press) for pre-print corrugated production will be installed later this year at a new Hummingbird site opening in Arizona.
Feb. 2, 2021 - Georgia-Pacific announced the expansion of its Hummingbird® digital print solutions with the purchase of an HP PageWide T1190 Press, the world's highest-volume digital corrugated packaging solution.
The new 110-inch wide web press for pre-print corrugated production will be installed later this year at a new Hummingbird site opening in Arizona, creating about 35 jobs.
The HP T1190 will be GP's third inkjet web press installed since 2015 when it launched digital print services.
GP's Hummingbird provides a range of digitally printed corrugated packaging solutions for consumer-packaged goods, electronics, and food and beverage brands across North America. Digital print allows for regional or product variations without minimum quantities, variable print, and faster turn on print since print plates are not needed.
Digital allows a customer to print only what they need, when they need it — which reduces waste. The press also uses water-based inks, which HP notes does not contain hazardous air pollutants and is also odorless. Hummingbird's digital offerings include corrugated shelf-ready packaging (SRP), food trays, large-format boxes, e-commerce solutions, and volume displays (POP).
"Our brand and trade converting partners can now reduce their printed packaging inventory levels, shorten turnaround time, make frequent design changes and offer more graphic versions," said Robert Seay, vice president, digital print solutions, Georgia-Pacific. "With our continued investment and network of operations in 30 U.S. states, we have unparalleled digital print capacity with a national printing footprint to provide efficiency and redundancy that can fundamentally transform brands' corrugated supply chain across North America."
Worldwide volume of inkjet corrugated packaging grew by more than 20% in 2020 compared with 2019 even with the ongoing COVID-19 pandemic, according to Smithers market analysis.
Based in Atlanta, Georgia-Pacific and its subsidiaries are among the world's leading manufacturers of bath tissue, paper towels and napkins, tableware, paper-based packaging, cellulose, specialty fibers, nonwoven fabrics, building products and related chemicals. To learn more, visit: www.gp.com.
SOURCE: Georgia-Pacific