Södra Cell Appoints Benjamin Brück as Head of Sales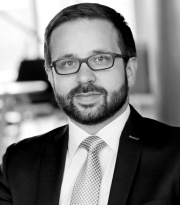 Benjamin Brück
Jan. 26, 2021 - Södra Cell has announced the appointment of Benjamin Brück as Head of Sales Paper Pulp Global, effective Feb. 1. He will report to Henrik Wettergren, Vice President of Södra Cell International.
Brück currently holds the position of Sales Director in Germany, Eastern Europe and BeNeLux, as well as several key accounts. He will continue to be based in Hamburg.
"This position is very well-deserved," commented Wettergren. "Benjamin will be an excellent fit for the role, bringing new ideas and skills to oversee the Sales Department and ensure that we continue to serve our customers to the best of our ability."
About Södra Cell
Södra Cell is one of the world's leading producers of paper pulp and dissolving pulp. Its three state-of-the-art pulp mills have a combined production capacity of 1.9 million tpy.
Södra is Sweden's largest forest-owner association, with 52,000 forest owners as its members. Södra is also an international forest industry Group, with operations based on processing its members' forest products, such as softwood and hardwood pulp, and wood products. To learn more, visit: www.sodra.com.
SOURCE: Södra